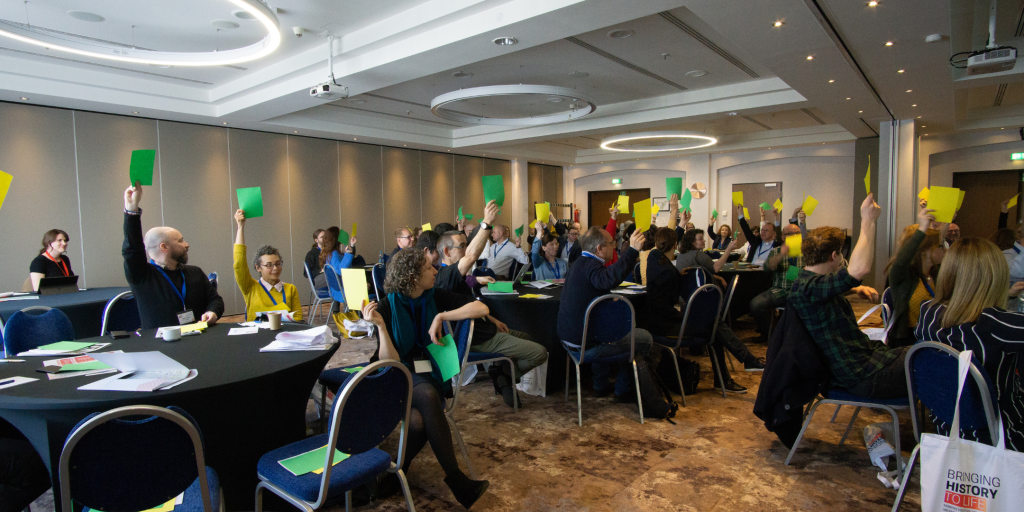 Full Members are (national) teachers' association with a democratic structure and a focus on the teaching of history/heritage/citizenship. In the past, EuroClio members were mostly based on the European continent.  We are however pleased that an increasing number of history teachers' associations from all over the world are deciding to join our association!
Full Members are the backbone of EuroClio. They are responsible for steering EuroClio forward by voting during our General Assembly, approving our Action Plan for every year, selecting the members of the EuroClio Board, and approving new membership applications.
Full Members have access to the following services
A dedicated newsletter – every six weeks, the contact persons of our Full Members receive a dedicated newsletter, containing information on upcoming training opportunities and on opportunities to get involved in new or ongoing EuroClio projects. The newsletter includes also a space where Full Members can share their own news and initiatives.
Free participation to all EuroClio-led online training sessions – all our Full Members receive a discount code, to distribute among their membership, that gives them free access to all our online courses and seminars.
A one-day discount on the participation fee at our Annual Conference for their official delegate, to ensure their participation to the General Assembly.
Co-hosting international trainings – this includes the join planning of in-person or online thematic seminars.
Access to the EuroClio Training Catalogue – the catalogue presents a selection of workshops that have been successfully implemented by trainers that are members of the EuroClio community, and that Full Members can ask EuroClio to adapt and host at their own events.
Membership of Special Interest Groups – as a member of a Special Interest Group, your members will be part of a small community of highly motivated education professionals, who share news, host lectures, and hold by-annual online networking event focused on a specific topic. Currently, the following Special Interest Groups are available:

Teachers as Researchers
Teachers as Textbook Authors
Using (video) games in History Teaching

Access to private recordings of webinars/conversations/content – While we strive to record all the online lectures and panel discussions that we host, some of them never make it to our YouTube channel, either due to the personal nature of the conversation, or because they deal with unpublished research, or because they make use of sources that cannot be used if not for educational purposes. In agreement with the speakers, we make some of these sessions available online for our Members only.
Support in opening and populating a Partner Page on Historiana – Since 2020, we have added a new section on Historiana: the partner pages. By creating a Partner Page, our Full Members can enhance their online offer and engage with schools and students in their national languages, as well as encourage the re-use of their Educational Resources across Europe. Full Members have also the possibility of asking for the support of the Historiana team to provide advice on the Source Collections or eLearning Activities they wish to share on their partner pages.
Advice and Feedback on Fundraising Applications. Full Members can reach out to EuroClio to ask for advice on fundraising applications that they are in the process of writing, or have the possibility to send us their application for feedback on the Action Plan.
In addition, we are currently developing the following services for individual members, including members of our member associations, which we hope will be available soon:
Discounted participation to online self paced courses – In the spring of 2023, we will launch our first ever online self paced course, focusing on the topic of "how to create quality e-Learning Activities on Historiana". This topic was chosen by our current Full and Individual Members by means of an anonymous survey. Members of our Full Members will have access to this online self paced course free of charge, including feedback sessions with the trainers and certificate of completion.
Planning and hosting of fringe sessions at in-person thematic seminars organised by the EuroClio secretariat.
Assistance in planning your own online seminars, including access to our zoom profile if needed.
The process to become a Full Member
As per our statute, all applications for Full Membership are voted upon by the EuroClio General Assembly, which gathers once a year, normally in April. If your organisation is interested in becoming a Full Member, please follow the procedure below:
Fill in the application form you find at this link. The application form is open throughout the year, and if your application is registered successfully, you will receive an email from the EuroClio Secretariat notifying you of this.
Two months prior the General Assembly, you will be contacted by a member of the EuroClio Staff, who will ask you to provide a short description of your organisation and to prepare a short presentation (1 to 2 minutes) of your organisation to share with the General Assembly.
You will then be invited to join the General Assembly, either online or in person, to present your organisation.
During the General Assembly, EuroClio Full Members will be voting on your membership application. Should the application be successful, you will be officially welcomed to EuroClio.
If you have any questions regarding Full Membership, Membership Services, or the application process, please reach out to us at membership@euroclio.eu. We are always happy to help!