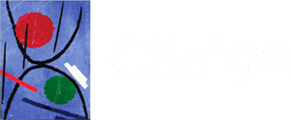 Location
Website
Member status
Clio'92 – Association of Research Groups on History Teaching and Learning
The association CLIO '92 was formed by a group of history teachers in 1998 with the aim to deepen and boost the theoretical and applied research on issues of teaching and learning of history.
Their ambition is to keep the history taught strongly linked to the history of the experts. His positions on the teaching of history have occurred in the theses published in 2000 in the first issue of "The Notebooks of Clio", updated in the national assemblies of the shareholders are held annually and published in the website of www.clio92.it.
CLIO '92 promotes research groups, promotes awareness of the experiences and innovative teaching materials, holds training courses for trainers.
CLIO '92 is accredited by the Ministry of Education for teacher training for which organizes training courses on the curriculum and teaching methods.
CLIO '92 triggered a circuit of ideas, in which researchers, investigators, trainers can make known, compare and enrich the contents and methods of their work, the results of his act smart and passionate in teaching history is in primary school that in the secondary one.