Historiana Editing Meeting in Estonia sets the future for Historiana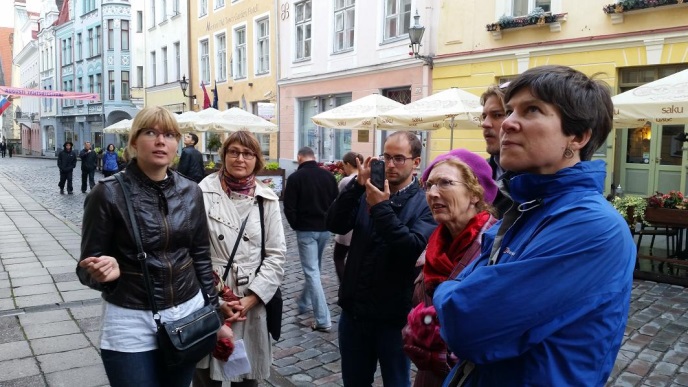 The Historiana Historical Content and Learning editing teams both came together for the first time in over a year in Tallinn, Estonia from 25-27 August to work on the final stage of the World War 1 module that is under development since the beginning of 2013 and set the future for Historiana. The meeting took place in the Institute of Education of the University of Tallinn, which simultaneously organised a teacher training seminar for over 40 Estonian history educators. Historiana Editor-in-Chief Bob Stradling presented the World War 1 module and the new learning section to this group, which were received with great enthusiasm.
Former EUROCLIO trainee Francesco Scatigna was welcomed as the newest editor in the Historical Content team during this meeting. The Learning team editors worked on the final editing of the exemplar learning activities that have been developed in the last one and a half year, and are now gradually uploaded to the new Learning section of Historiana [la.historiana.eu]. The historical content team editors agreed on the final steps for the development of the content areas in the module including the 'Descent into war', 'Experiencing the war' and 'Reporting the war'. The full module will be available online on www.historiana.eu by the end of 2014.  The editors also discussed the future development of Historiana and agreed to first develop a skeleton with content areas, and then populate this with sources collaboratively. Some of the editors agreed to be involved in the new Historiana project 'Decisions and Dilemma's'. Moreover, they agreed to train new Historiana trainers to expand the pool of people that can give workshops on Historiana throughout Europe. This resulted in the call for Core Team members for the new Historiana project Innovative History Education for All. During the visit to Tallinn there was also some time for on-site learning. The weather cleared up for a 2-hour city walk kindly provided by the daughter of EUROCLIO ambassador's Mare Oja, in which the editors got an impression of the rich history of the city centre of Tallinn.
We also recommend