Innovating History Education for All
Innovating History Education for All
In this project, specialists in history education, researchers and professional web-developers are working together to help educators make use of digital learning tools that help students acquire competences that are specific for history education. The ambition of the project is to find out what history educators really need to make best use of new technologies for the teaching and learning of history. The project works to meet those needs, by developing online learning resources, by providing training opportunities for professional development, and by advocating for policies to support digital learning for history. The project especially targets those educators that are not (yet) confident in the use of ICT, but motivated to learn.
Project Aims
The IHEA project aims to promote high-quality history, heritage, and citizenship education in Europe through the development, testing and implementation of digital learning resources and by researching what is needed in terms of policy and practice.
In particular, the project will:
Enable educators to create their own online learning activities and tools specifically designed to promote historical thinking and transversal competences.
Foster competence-based approaches to the subject based on critical thinking and the ability to analyse content in a balanced way, question and compare interpretations, assess evidence and make independent judgments.
Support a large group of educators to become more digitally confident, to act as multipliers with their colleagues, and to transmit their skills to their students.
Expected Outcomes
The consortium will work in the project to develop the following outputs:
First Concrete Results
So far, the project has led to the following results: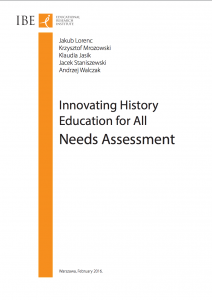 Jasik K., Lorenc J., Mrozowski K., Staniszewski J., Walczak A., (2016), Innovating History Education for All - Needs Assessment, Warsaw. - The needs assessment, made by the Institute for Educational Research in Warsaw, helped to identify several problems that educators encounter when it comes to using ICT in history education and to set priorities for the development of new tools in the Innovating History Education for All project. The research consisted of a preliminary questionnaire, two focus group interviews, a survey (translated in 18 languages) which was completed by 235 educators across Europe and individual in-depth interviews. The needs assessment gathered data that helped the project team to determine what kind of tools and exemplar learning activities are most needed, how teachers are likely to use them in practice, and what therefore needs to be taken into account during the development page. This report describes in detail what methodology was used, lists the main challenges that the researchers identified and includes a literature list that can be used for further reading. (Click image to download .pdf)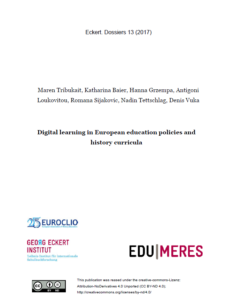 Tribukait, M., Baier, K., Grzempa, H., Loukovitou, A., Sijakovic, R., Tettschlag, N., Vuka, D. (2017), Digital learning in European education policies and history curricula, Braunschweig. - The report on education policies and history curricula, made by the Georg Eckert Institute in Braunschweig, aimed to investigate education policies concerning digital learning in Europe. Specifically, political strategies by the European Union and by seven European states (Albania, Denmark, Germany, Greece, The Netherlands, Poland, and Spain) with regard to the digitisation of schools as well as the roles of curricula as schooling frameworks have been examined. The comparative analysis of the strategic and didactic level of education policy expressed in political guidelines and curricula allowed the study to reflect on the extent the digital resources developed as part of the Innovating History Education for All project correspond with educational policies and curricular respondents, and which challenges are currently being faces in the curricular adaption and implementation of digital learning. The research for this report was carried out between November 2015 and July 2016, the description of the education systems in each case study hence refers to the 2015/2016 academic year. (Click image to download .pdf)
Historiana Labs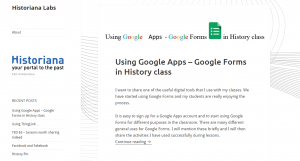 The core team has written a series of blog posts that introduce online tools that are freely available and can be used to promote historical thinking. The blog posts are written to help history educators use these tools, by making a selection of the many digital tools that are available and describing how these tools can be used specifically for history education. The process of selecting and testing tools has helped the project to find out what functionalities and ideas work or do not work. Valuable lessons that will help to improve the tools and exemplar online learning activities made in the Innovating History Education for all project. The blog posts are available at labs.historiana.eu.


Erasmus+ Jean Monnet
Project managers
Steven Stegers
Programme Director, EUROCLIO - European Association of History Educators
Judith Geerling
Programme Manager, EUROCLIO - European Association of History Educators
Project Partners
Helen Snelson
Mount School York
Jacek Staniszewski, Jakub Lorenc
Educational Research Institute
Maren Tribukait
Georg Eckert Institute
Nique Sanders, Paul Jongsma
Webtic