Marcel J.M. Put, History Teacher, the Netherlands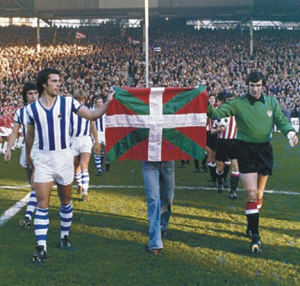 This practice uses historic football pictures to learn about and recognize the characteristics of nationalism. In connection to this activity, students will learn to ask different kinds of questions about the sources, organizing the sources and formulating a hypothesis about them. The activity has different difficulty levels, includes several assessment rubrics, and can be easily modified. It can be used to introduce the topic of nationalism, or to conclude a module on it.
In the image: Athletic Club Bilbao and Real Sociedad carrying the Ikurinna, the Basque flag, before a football match between those two Basque teams in San Sebastian, Basque Country, Spain in 1976.
The practice
The main goal of this practice is to address nationalism through football, and to recognize characteristics of nationalism in historic football sources. It has been developed to use with students aged 12-18, who will:
Learn about how nationalism can be expressed;
Learn to recognise nationalism in historical sources;
Learn the difference between political and football nationalism;
Learn to question and analyse sources.
This practice helps to promote inclusivity and multiperspectivity while tackling discrimination and inequality.
About the Author
Marcel J.M. Put is an independent historical researcher and writer on historical subjects. From 1998 until 2022 he was an Economics and History teacher at SVOPL (Secondary Education Foundation Parkstad Limburg) and between 2000 and 2004 also a teacher trainer. He has been involved in the Football Makes History project with EuroClio.
Access all Seven parts of the practice here!
Background to this practice
This practice has been developed by Marcel J.M. Put within the framework of the Football Makes History project, which is co-funded by the Erasmus+ Programme of the European Union as part of the Football History for Inclusion project.
The project aims to promote multiperspectivity, tackle sensitive and controversial issues and make history relevant and accessible.
The practice step by step
The practice is implemented in the classroom. It is a combination of lessons, independent work and group work. There are some preparations required on the part of the teacher:
find a video of a national football team singing their anthem
find photos of football fans expressing their support for their nation in several ways. Copy them for the students.
find photos of national football teams containing expression of nationalism (e.g. national symbols on the jerseys, the salute in Nazi-Germany, or under Francisco Franco in Spain, …). Make some copies of these for the students.
Print out the worksheets and the Student information sheet, available below.
Tip: use a lamination machine to make the pictures last longer and label them with a letter or a number. In this way, you can repeat the activity with several classrooms.
Once the preparations are finished, the practice is broadly divided in four activities, which can be adapted to the specific classroom context:
Introduction (10-15 min): Looking at a football example, define together 'nationalism'.
Assignment 1. (10-20 min.): Identify different ways of expressing nationalism.
Assignment 2. (20-25 min.): Working with the sources found in the preparation phase, identify examples of nationalism.
Conclusions (10 min.): reflect with students on lessons learned.
There are 3 extra assignments if there is time and interest.
Inspiration
"I was born and raised 5 kilometers from the Dutch-German border. We always had German D-Marks at hand because we went shopping in Germany. Language wasn't a problem. The Germans understood our dialect and because I grew up watching German television I understood and spoke German at an early age. Now I have family and friends all over Europe and speak several European languages. I consider myself to be a European. But there are times when I feel mainly, or rather exclusively, Dutch, especially at sporting events, such as football matches. It is a phenomenon I also see in others. I started to wonder where this sense of belonging to a nation comes from. How does it make people, even those who consider themselves to be Europeans or world citizens, like myself, think about their country: 'We are the best!' And is this thought dangerous? Does it divide people? Because students struggle with the concept of nationalism (maybe even more in the Netherlands then elsewhere because the Dutch pretend not to be nationalistic at all) the first step to approach this idea of a nation is to look for its characteristics. That's what these lessons are about." – Marcel.
The practice step by step
Introduction (10-15 min): Looking at a football example, define together 'nationalism'.
Step 1: Tell the students that they are about to watch a short video and that they have to watch closely so they can describe it to the classroom and identify what it was about
Step 2: Show a short video clip of a national football team singing the national anthem and the people in the stadium waving national flags. You can use a clip of your own national team, or a clip from a famous game, or a clip from the most recent game played in a tournament.
Step 3: Ask your students "What did you see?". Ask several students to describe the video with their own words, and ask them to reflect on why were people in the video behaving like they were. You want your students to reach this conclusion: footballers are going to play for their country and are proud to do so; their fellow country(wo)men are cheering them and showing from which country they are / which country they support.
Step 4. Ask your students "What is nationalism?", and write their answers on the board. Together, try to reach a definition. Alternatively, you can write the definition of nationalism used by your textbook or teaching material and ask your students to connect it to the conversation they just had.
Step 5: Now, ask your students to answer again to the first question ("what did you see in the video?"). Discuss with them if what they saw can be considered an expression of nationalism.
Assignment 1. (10-20 min.): Identify different ways of expressing nationalism.
Step 1: Ask your students to reflect on at least 5 different ways in which nationalism can be expressed. Give them around 5 minutes to reflect by themselves, and ask them to write down their ideas in their notebook or on a piece of paper. Note that if you wish to collect students' answers at the end of the lesson to assess their work, then you should let them know now that they should use a clean slate of paper and write their name on it.
Step 2: Make a collective list of ways of expressing nationalism, mentioned by the students. Ask students if they agree / do not agree with each other, and moderate the discussion. Ultimately, you wish to have a list of features that most students agree with.
Tip! You can work on your collective list in two different ways, depending on the size of your classroom and on whether all your students feel comfortable in sharing and intervening.
Approach 1. Ask students to simply take the floor and share what they wrote down. Write their words on the board for everyone to see. If you are doing your lesson online, you can use a wordcloud programme to collect all the ideas (such as this: https://www.mentimeter.com/templates/education – template Language Class). Note that in this approach it is likely that after a couple of minutes all the most obvious answers will be on the board. Then, you can ask students if they have something to add, or add expressions of nationalism that shouldn't be left out yourself.
Approach 2. Divide students in groups of 3 or 4 and ask them to discuss their ideas in the group. Ask them to put together a list of the 5 ways in which nationalism can be expressed that they all agree on. Then, every group shares their final list with the rest of the classroom, and you can follow the steps of approach one.
We suggest that you use Approach 2 if you are not sure that all your students would feel comfortable in sharing with the whole classroom, or if you have some students that tend to claim all attention during plenary work. Approach 2 will help you give each students a fair chance to be heard.
Assignment 2: Working with the sources found in the preparation phase, identify examples of nationalism. (20 – 25 min)
In this phase, students look for examples of nationalism in the sources, connecting them to the list created together during Assignment 1.
Step 1: Divide your students in smaller groups. We advise you to make groups of 3 students, because they are small enough that every member of the group has a possibility to share, but also uneven, which would make it more likely to have meaningful discussions. If you used approach 2 from above, you can also keep the same groups.
Step 2: Distribute the sources found in the preparation phase to the groups. Depending on how much time you want to spend on these assignments and on how difficult you want to make the task, we advise you to distribute:
beginners – 1 source each group (10 min.)
medium – 3 sources per group (15 min.)
expert – 6 sources per group (20 min.)
Note: Give each group the same source(s)! This makes it easier when you come to step 4, the Conclusion of the lesson.
If this is going alright it is very interesting to use different sources, for example sources chosen by the students themselves. By doing so you also raise a different kind of discussion in the classroom.
Step 3: Write the following questions on the board / show the students the following questions:
Note: sometimes it can be helpful to read the questions out loud
which of the expressions of nationalism listed before do you see in this (these) source(s)?
try to put the source in its historical context: when was the photo taken? What was going on in that time?
You can say that in football we have 'political' nationalism or 'football' nationalism. What do you think is the difference between these? Do you think this (these) source(s) is an example of 'political' or of 'football' nationalism? Please explain your choice.
Ask each group to answer the questions. Ask them to note down the answers that they agree on, but to also list each individual answer in case they do not agree. If you use an event the students should recognize from earlier classes you can disallow them using other sources then their textbook. Otherwise the internet might be a good help. After all, finding the right information is also a learning goal (but to keep it simple that's not rated here)
Note: Give students enough time to proceed with their group discussions, and in the meanwhile walk among the groups and see if they need any help. If groups are done quickly, you can give them some more sources to work with.
Step 4: Conclusions (10 min.)
In the last ten minutes of lesson, ask each group to share their findings, and discuss with the classroom what they have learned during the day. Read the expected learning outcomes to the students and ask them if they feel they have met them.
Collect students' answer sheets. Normally, Marcel uses an assessment grid (you can find a copy here) to assess whether the lesson has had the desired result.
More information
This practice was developed as part of the Football Makes History initiative. More information, including many other practices, source collections, and lesson plans, can be found on the project's website at www.footballmakeshistory.eu.
To carry out the practice in his classroom, Marcel has developed a series of supporting materials, including two worksheet for students to fill in (here and here), a rubric for assessment (here), and an information sheet on what is nationalism (here) for students. Since different contexts and classrooms call for different sources, we have decided not to share the sources used by Marcel with his students. Here, however, you can find a list of potential expressions of nationalism (in football) that you can look for when creating your own sources collection.
Finally, in this post we are describing the core practice as carried out in the classroom. In case you would like to do more with your students, at this link you can find some suggestions for extension activities.
Let us know your thoughts!
Have you tried this practice with your classroom?  Or do you already do something similar? Marcel and all of us at EuroClio would be very glad if you took time to reach out to us and let us know your experience! You can reach out to us at secretariat@euroclio.eu or by getting in touch directly with Alice (project coordinator for Football Makes History) at alice@euroclio.eu.
We look forward to hearing from you!
Obstacles and Lessons Learned
Nationalism is a controversial topic, which is why teachers have to approach it in a sensitive manner. There can be obstacles, when different opinions arise and clash. Teachers must be equipped to deal with these situations.
The needed prior knowledge of the students depends on the variant the teacher chooses. It is possible to start without any prior knowledge of nationalism. If there is also not much knowledge about history in general, finding out what the sources are about might be difficult, but then students can write down what they think is going on.
The effect of the practice
By using a by a lot of people as normal excepted situation (fans in a football stadium) and a well-known ritual (singing the national anthem) to introduce and to discuss the concept of nationalism, students realize nationalism isn't something from the past or only exists in far-far-away countries. It is something they too can encounter in their daily lives. This makes it is easier for them to engage. (Football can also be replaced by another international sports event or even by a cultural happening like the Eurovision Songfestival or the World Fair)
Nationalism is no longer an abstract concept. Pupils have suggested their own characteristics. Because of this, they not only know what nationalism is, but also how to recognize it. The concept is not just learned, but analyzed and used. They understand better.Measuring the intended learning effect can be done by looking at the student worksheets, but of course also by listening to the group discussions about the source(s) and by questioning the students in the next lesson.
Because students will be looking for things they themselves came up with it will probably be easier to interpret the image. Using sources related to the subject matter is likely to work best. Captions can help students. And football knowledge is not necessarily necessary. In practice, I see that football fans often know the captured moment (especially if it is from a match), but others often provide other necessary information. An example from Marcel's practice is a photograph of Maradonna's hand goal in the game against England at the World Championship in 1986, captioned: The Hand of God. The football fans often can tell everything about the moment and the tournament. The Falklands War is not part of the curriculum in the Netherlands, so this is seldom mentioned, but even without knowledge of it, there are students who make the link between a protecting God and the nation, citing other examples of this (related to topics we have covered, like a phrase in the Dutch national anthem or 'In God we trust' on the American money).
Written by Ulrika Steven (EuroClio Trainee) and Marcel J.M. Put (Football Makes History Contributor), in Finland and the Netherlands, June and November 2021. Click here to access a short letter from the author!
The collection of teaching practices for the Critical History project is realised with co-funding of the Erasmus+ Programme of the European Union.

The European Commission's support for the production of this publication does not constitute an endorsement of the contents, which reflect the views only of the authors, and the Commission cannot be held responsible for any use which may be made of the information contained therein.