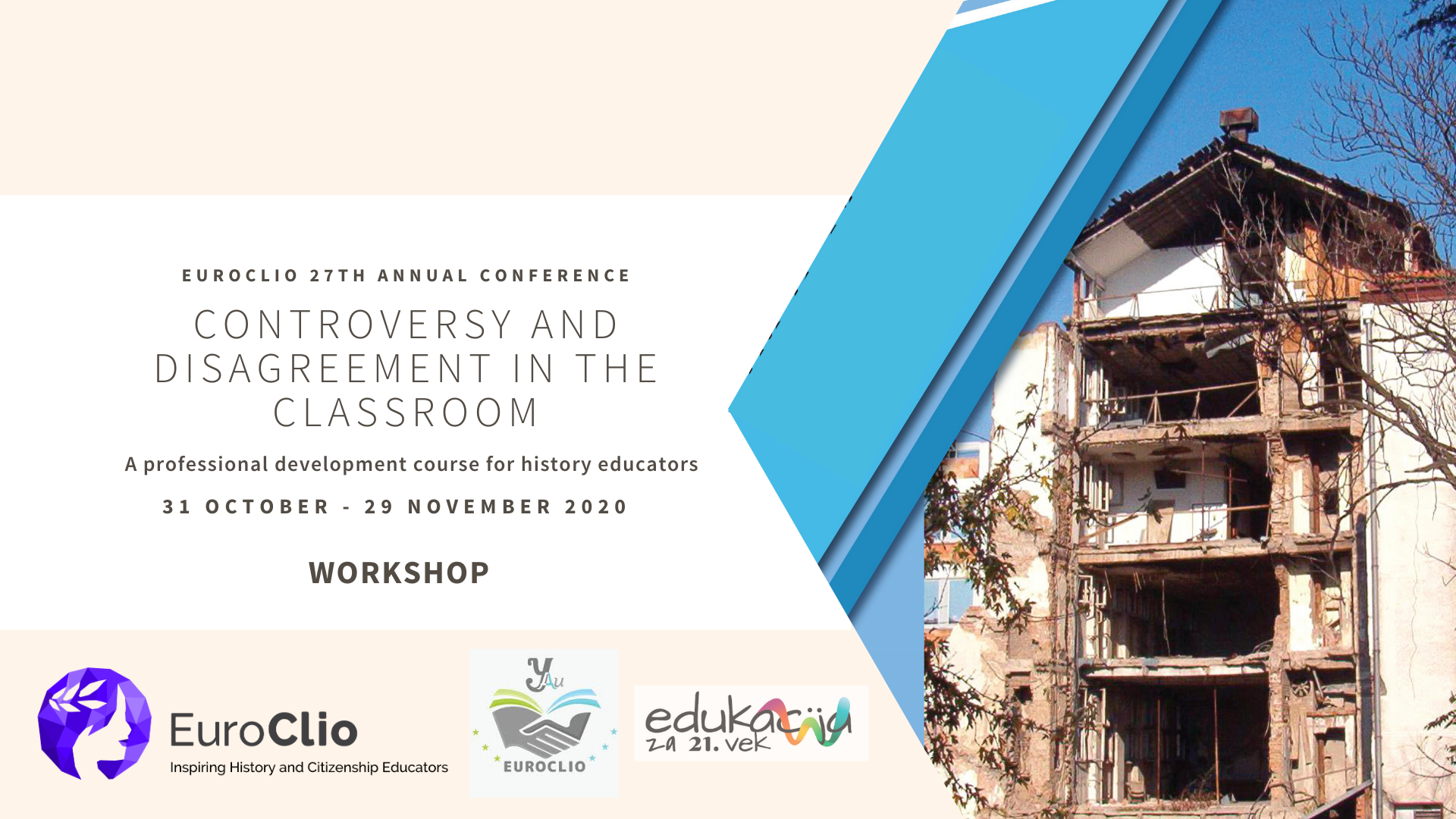 History Education and Global Politics. The case of borders.
November 3, 2020 @ 4:30 pm

-

6:30 pm

|

€15
During this workshop, Ana and Maja will use some of the teaching strategies presented in the Learning to Disagree Teachers' Guide to approach controversial borders. This is done in the context of a new interdisciplinary subject in Serbia: Global Politics, as well as the subject History. This combination offers the possibility to teach about complex political, economic, and social phenomena.
This workshop will present a lesson plan, designed for two consecutive lessons, dealing with the case of Northern Ireland.  Using various debate strategies, students will discuss diverse viewpoints and develop argumentation skills and tolerance. In this two part-part lesson-series, students will base their arguments on factual historical knowledge and historical sources and viewpoints provided by the selected materials from the Learning to Disagree project. In particular, they will use sources from the Northern Ireland Variety of Viewpoints, including politicians' speeches, newspaper headlines, references to popular culture.
As a result of the lesson plan presented in this workshop, students will understand that the aim of a debate is not to declare a winner, but to voice structured and convincing arguments. Additionally, all student will develop attitudes of respect, responsibility, tolerance of ambiguity, openness towards the other, and openness to other beliefs, world views and practices.
This workshop is a product of the Learning to Disagree project. This project was initiated in response to the needs of educators who experience difficulties in addressing sensitive and controversial issues in their classrooms. The project, now in its final stages, offers trainings and support materials to teachers to face these topics head first with their students, thus teaching students vital skills such as the ability to listen, to consider alternative interpretations, and the ability of interacting with people that they disagree with in a constructive manner. Skills they will enjoy far beyond the classroom.
About the Workshop Hosts
Maja Keskinov is a teacher, teacher trainer and a coordinator at the Education for the 21st. Century. She teaches philosophy and geopolitics. She has also worked as a coordinator and consultant on various national and international projects. Maja is highly skilled in using different methods of debates in the classroom. Her experience as a teacher and teacher trainer for debating is extensive.
Ana Radaković is a history teacher and a member of the Education for the 21st century. She is a PhD student at History department at the Faculty of Philosophy in Belgrade where she has the position of a teaching assistant on the subjects: History teaching and didactics and Initial teacher training. Her field of research is history teaching in Serbia from 1990 to 2020. She was a participant and coordinator of numerous national and international seminars, conferences, trainings and summer schools concerning contemporary history and history teaching.
[siteorigin_widget class="Tribe__Events__List_Widget"][/siteorigin_widget]
27th Annual Conference
This workshop is part of the 27th EuroClio Annual Conference on Controversy and Disagreement in the Classroom. You can find more information on the Annual Conference, including the full programme, on the Annual Conference main page.
Workshop Fee
You can register to this single workshop for 15€ , or register to multiple workshops for a reduced fee.
Participation is free for Individual Members, Member Associations, and Ambassadors. Reach out to Djoera at djoera@euroclio.eu to know how to join.
[siteorigin_widget class="SiteOrigin_Widget_Image_Widget"][/siteorigin_widget]
[siteorigin_widget class="SiteOrigin_Widget_Image_Widget"][/siteorigin_widget]
Share This Story, Choose Your Platform!