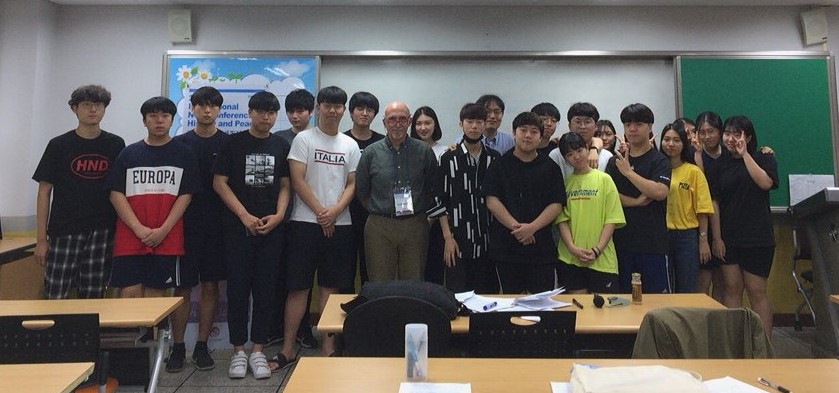 The 8th International NGO Conference on History and Peace
July 22, 2019 @ 8:00 am

-

July 26, 2019 @ 5:00 pm
1919 and its Historical Implications for Peace and Reconciliation in East Asia
1919 was a momentous year all over the world. The First World War was over, people were exhausted by the aftermath (in particular the Spanish flu), they were mourning millions of young men killed in action and even more killed by the diseases. At the same time, the world was somehow excited, hoping for a bright future. A future that, they thought, was at the winners' disposal when they met in the Paris peace congress. Many felt a sort of religious faith toward Woodrow Wilson and his 14 points, others believed in the promises raised by Bolshevik's internationalism. Many thought that after such a huge massacre the world passed through, nothing could have hindered the serious and durable peace arrangements. Unfortunately we know they were wrong.
Winning the Peace
What perhaps we don't know is that it was not only a European or an American story. The war was really a global one, especially if you try to understand it from a different perspective. The EuroClio Korean friends of the "History NGO Forum for peace in East Asia" organised their 8th conference around one of the most important (and unknown in Europe) episode of the year. There, it was made quite clear that "winning" the peace would have been much more difficult than winning the war. It is commonly understood that the selfish conception of international security that every "big" power took in the peace conference led to many decisions which have had bad consequences so far. However, not many people know that in the colonised continents, Asia, Africa and somehow even in South America, 1919 was a year of awakening.
The Korean case, which we talked about in the conference, was not only particularly interesting per se, it also highlighted the connections that Korea brought in the East Asia countries. On March 1st, 1919 a Korean Declaration of Independence was signed by a group of activists and intellectuals, triggering a non-violent mass movement, ironically violently repressed by the Japanese. The declaration was based on tenets like "the construction of self, never the destruction of others" or "never to hate and exclude others through past resentment and temporary emotion". Most East Asian countries were affected by the aftermath of this movement. In May, a similar, or inspired-by, movement started in China, the same happened in Vietnam, in the Philippines and even in India where the national independence movement seemed to take inspiration from the Korean one.
Concluding remarks
The conference was really well organised with plenary sessions, workshops and on-site visits. Many activities were not focused only on historical topics but also on contemporary issues like the role of NGO in keeping and strengthening peace and reconciliation in the region. There were more than 200 participants from all over the world though as it is understandable most of them were East Asian. A very qualified group of European were there, and amongst them. I participated as a teacher as well as a representative of EuroClio, as president of the board. Neil Mc Lellan, an experienced EuroClio Scottish colleague, now Director of Leadership Programmes at the School of Education in the University of Aberdeen, gave a speech and participated in workshops.
All in all, this was a very positive experience. We realised that history is a never ending subject, but we also realised, as far as I'm concerned, that our didactics, the kind of history education we foster and promote in and by EuroClio's initiatives, somehow worked even in other learning environment. My personal experience of running a history class with Korean students, who participated voluntarily (they were on holiday) was amazingly positive. They enjoyed a discussion-based and interpretation of sources class, and gave me good feedback. They told me that usually, their history lesson are only a listen and repeat game. Our mission towards a critical and multiperspective approach to history teaching has been once again really appreciated.
Share This Story, Choose Your Platform!