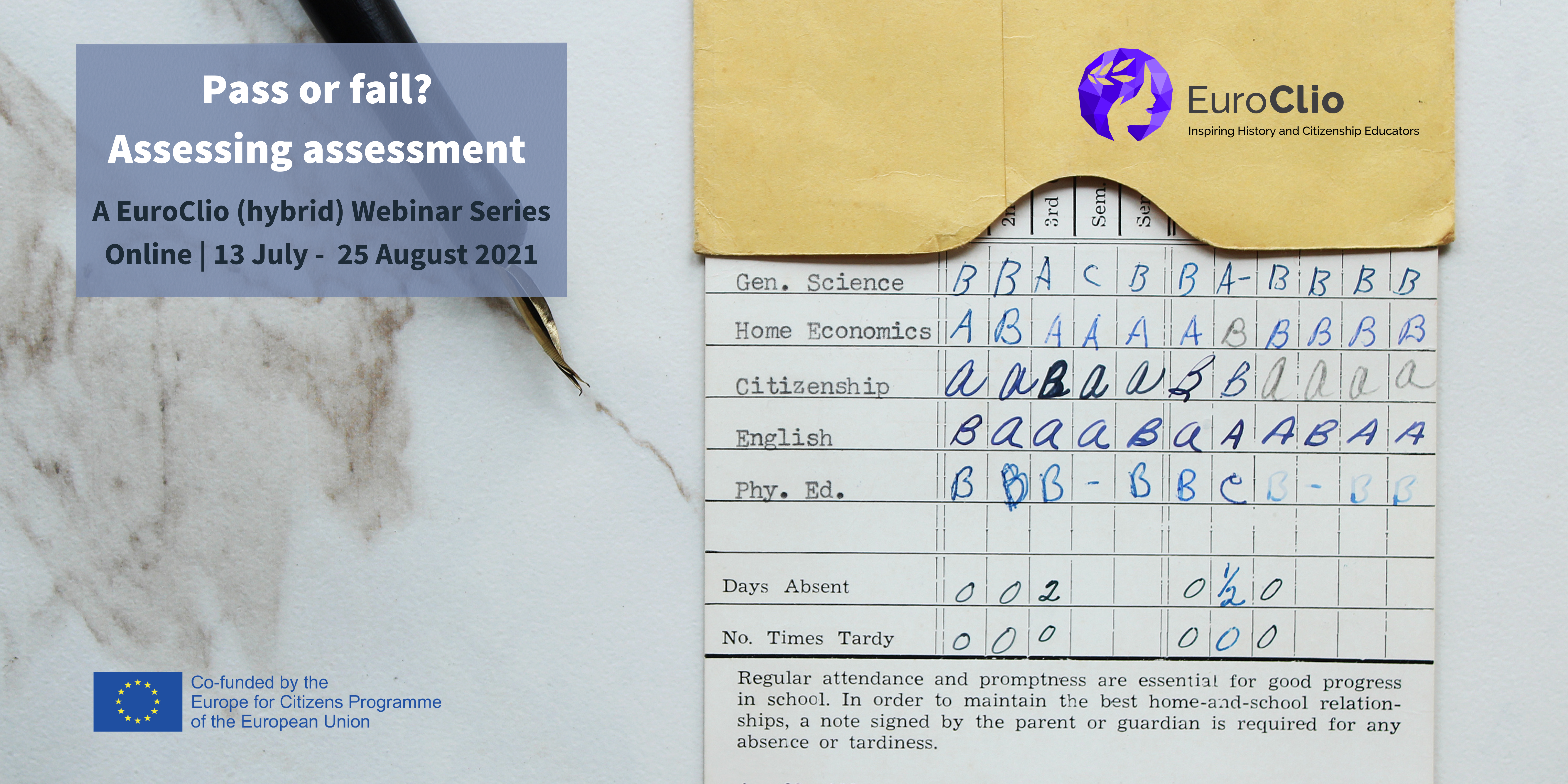 Pass or Fail? Assessing Assessment
July 13, 2021 @ 5:00 pm

-

August 25, 2021 @ 7:00 pm
If there is one thing that we at EuroClio have learned during the past few years, it is that assessment is a rather complex and multifaceted part of (history and citizenship) education, and that not all teachers feel equipped for and comfortable to assess their students when it comes to formative assessment in the context of topics that might be controversial or sensitive for some of them (see, for example, the Needs Assessment carried out in 2017-2018 within the Learning to Disagree Project). At the same time, during the plenary workshop on assessment that took place in November 2020, all participants agreed that assessment is a key part of (history and citizenship) education.
Many things affect how assessment may be followed out, such as time constraints, diverse classrooms, online formats and the space left for skills and competences. How to carry out assessment in order to benefit the learning process of each individual student?
This webinar series, blending pre-recorded and live sessions, will try to tackle some of these topics, to kick-start a discussion on where we stand when it comes to assessment, and how we can develop new approaches to assessment that are better suited to fulfil not only our needs as educators, but also our students' needs.
The 'Assessment' webinar series consists of seven sessions, taking place in the summer of 2021, starting July 13 until August 25. The first session will be held live on zoom, followed by four pre-recorded, practical sessions which will be periodically uploaded on our Youtube page. Everything will be followed by a live keynote lecture and a live closing session, where participants will have the possibility to meet the speakers and to share their own experiences. The programme will open with a session on the relationship between creativity and assessment. During this session, we will also explore the connections between state exams and the creativity of students and teachers. During the following four pre-recorded sessions, assessment will be looked at from different perspectives, while providing tips and tricks for good practices.
Participants will be presented tools and methodologies to:
The pre-recorded sessions will be followed by a keynote lecture on the ethical implications of assessing values and attitudes. The keynote lecture will be hosted by Prof. TAN Oon Seng (Centre for Research in Child Development (CRCD) at the Nanyang Technological University, Singapore). Followed by this, a short Q&A session will take place, as well as an opportunity for participants to share their initial thoughts and hopes about the coming sessions. 
The series will end with an live interactive session, where participants will discuss their thoughts about the dedicated sessions with their peers and the designated speakers. Participants will also have an opportunity to share their personal reflections, tips and insights on assessment. 
During the webinar series, you will:
Understand the role that attitudes and values play in learning about historical events and how to consider these in assessment;

Investigate the tensions between central exams, curriculum constraints, and assessing skills and competences;

Exchange experiences and thoughts about victories and failures of assessment practices;

Learn about formative assessment as a way to update learning to promote positive development.
(1) In 2016, the Council of Europe issued the "Competences for Democratic Culture", a document which highlights various competences and skills that we should help our students develop to be active and engaged citizens. The butterfly the "butterfly" is a visual organizer that shows what the Competences for Democratic Culture are.
By registering, you will be added to a mailing list which will receive the links to join the live sessions, as well as direct links, updates, and additional material (if applicable) every time a pre-recorded session is made available online.
Participation to this series is free of charge.
Do you want to know more about this webinar series? Do you have a great assessment method that you would like to share with your colleagues? Have you recently read a book / listened to a podcast about assessment, which you want to recommend to your colleagues?
Let us know by emailing us at secretariat@euroclio.eu!
[siteorigin_widget class="SiteOrigin_Widget_Image_Widget"][/siteorigin_widget]
[siteorigin_widget class="Tribe__Events__List_Widget"][/siteorigin_widget]
Share This Story, Choose Your Platform!