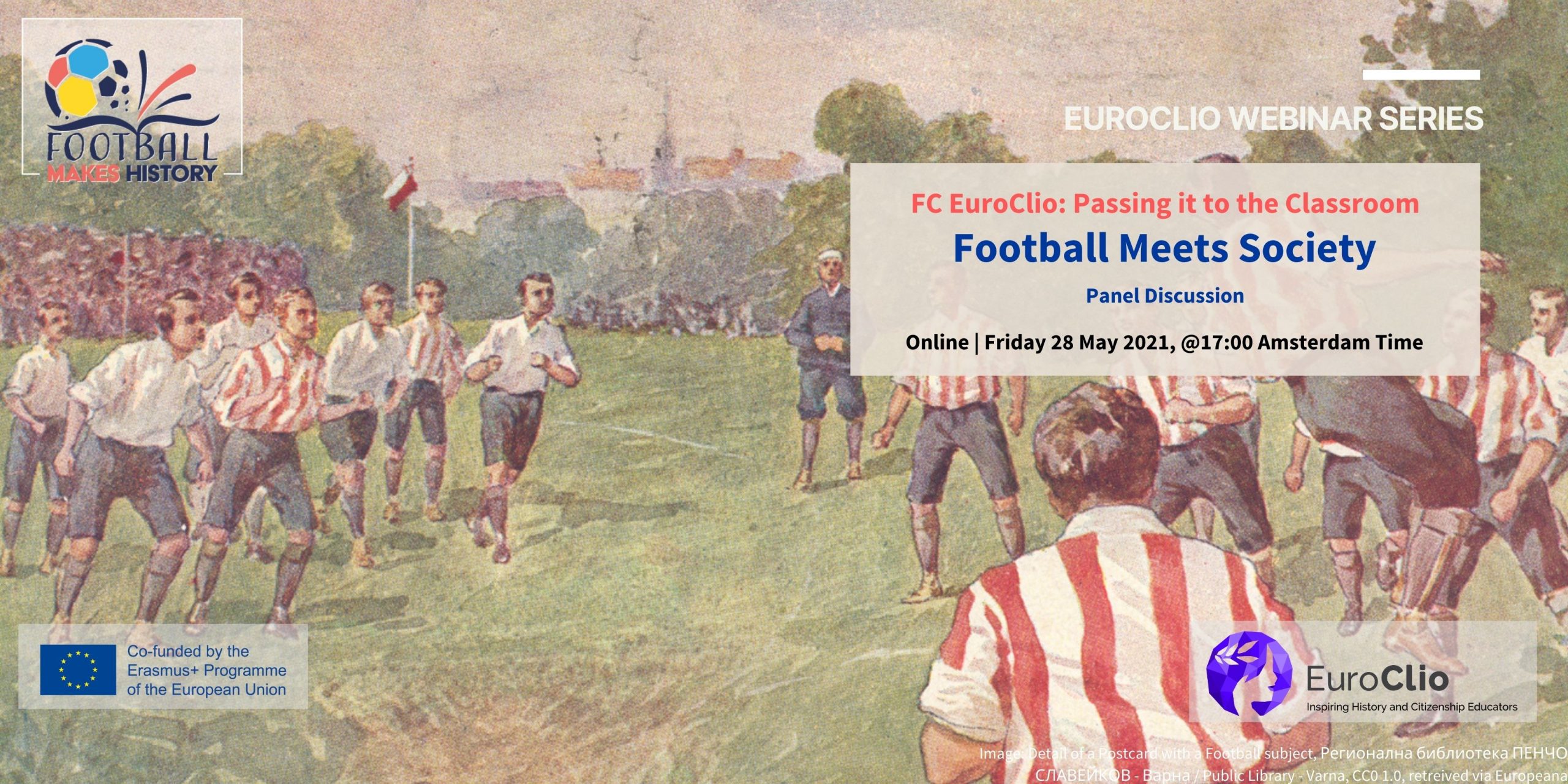 FC EuroClio – Football Meets Society: towards inclusive history education?
May 28, 2021 @ 5:00 pm

-

7:00 pm
Football – and sport in general – promotes sportsmanship, a healthy lifestyle and team spirit. Nevertheless, this much-vaunted "power of sport" also has a downside, from which the sport prefers to turn away: violence, racism, sexual harassment, doping, match fixing and subversion. Viewed in this way, sport is a mirror of society. Nonetheless it is this mirror that many youngsters easily can relate to. They share – together with educators, trainers and coaches – a strong passion for the game. Often, they play themselves, they have their favorite national and international clubs and they follow the results almost daily. They know football stories.
To which extent can we use the passion of the game in our (history) teaching and citizenship training to tell stories of equality and inequality, racism, patriotism, gender, migration and diversity?
We have invited journalists, representatives of football clubs, heritage organization teachers and fans to discuss the options and limits of sport and sport- stories as an educational tool. A tool that can used in formal teaching, civic trainings, in club museums and indeed on a grass-root level at the local clubs.
The overall aim of the Football Makes History project is to contribute to the reduction of the number of people at risk of social exclusion across Europe by pursuing these specific objectives:
promote diversity, non-discrimination and equality, including gender equality;
Innovate formal and non-formal learning leading to social, civic and intercultural competences and critical thinking;
support the professional development of educators and youth workers and build the capacity to develop and implement innovative teaching methods;
engage cultural heritage for all by accessing the histories, memories and legacies residing in football history in transnational perspectives on all levels;
raise public awareness on the role of learning for social inclusion and increase the sharing of innovative practices across the continent.
Where do we succeed? What are the limits and possibilities of this approach? To what extent should clubs make use of such approaches?
Kevin Moore, Football and sports historian, author, academic.
Kevin Moore grew up in Nantwich, Cheshire, in the UK, an historic market town, which gave him a strong interest in history. He was introduced by his family to football, cricket, pop music and film as a child and these remain great passions in his life! He is a fan of sport in general and is fascinated by the huge variety of sports we have around the world, ancient and modern. Kevin studied history as an undergraduate and postgraduate at the University of Liverpool. He has been a Lecturer in History in Liverpool, and between 1992 and 1997 he was a Lecturer in Museum Studies at the University of Leicester, the world's leading centre of its kind for postgraduate teaching and research. Kevin has over 20 years' experience as a CEO, including being the Founding Director (CEO) of the National Football Museum for England and the first CEO of a major statutory body.
Petra Landers, footballer, coach, mentor.
Petra Landers is a four time German champion, as well as winner of the 1989 European Cup with the German National Team. When in 1981 Germany was invited to send a team to Taiwan, to play in an unofficial world championship, her club (Bergisch Gladbach) was chosen to represent Germany. In 1982, she became member of the first ever German women's national football team. After having contributed to the rise of women's football in Germany and a 9 years pause from the game, she became coach and mentor of a group of girls in Lusaka in Zambia. In 2017, she played in the "Equal Playing Field" match, 5715m high on Mount Kilimanjaro.
This session will be moderated by Prof. Dr. Gijsbert Oonk, who  holds the Jean Monnet Chair (ad Personam): Europe in Globalizing World: Migration, Citizenship and Identity. This chair promotes education and research in the field of Global History, European Studies and National Identity. The Jean Monnet chairs are an initiative of the European Commission to promote education, research and reflection in the field of European integration studies at higher education institutions. Oonk is the founding director of the Sport and Nation research program at Erasmus University Rotterdam. This interdisciplinary research program focuses on talented athletes with a migrant background within football and the Olympic Games in the context of changing citizenship, multiple citizenship and elite migration. Gijsbert is also Academic Advisor at EuroClio, especially in relation to the Football Makes History project.
[siteorigin_widget class="Tribe__Events__List_Widget"][/siteorigin_widget]
Participation to this webinar is free.
[siteorigin_widget class="WP_Widget_Media_Image"][/siteorigin_widget]
Share This Story, Choose Your Platform!