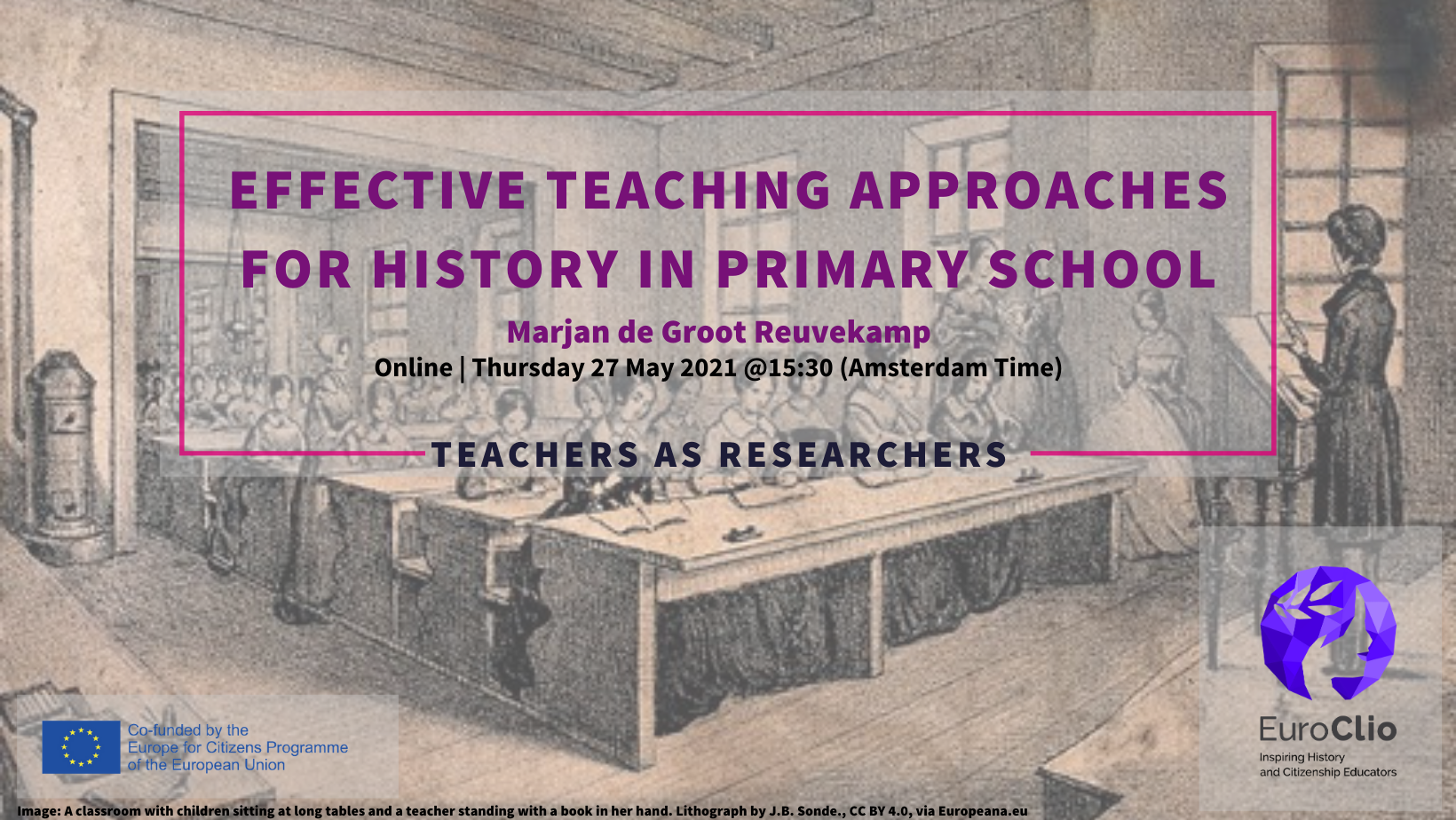 Effective teaching approaches for history in primary school
May 27, 2021 @ 3:30 pm

-

5:00 pm
Based on a recent review study, this keynote will examine factors that influence primary school pupils' learning performances with regard to historical knowledge and skills. This study was carried out at the Universities of Utrecht and Amsterdam in preparation for research into the level of pupils' performances in social studies in their final year in primary education (group 8 -sixth grade), which will be conducted from 2020 to 2022.
Topics covered are:
Objectives for history education in the Netherlands
Teaching of history and social studies in primary schools in the Netherlands

Effective teaching approaches: what are essentials and what is known from empirical studies about the effects of these approaches in history education.
Marjan de Groot-Reuvekamp (the Netherlands) was teacher trainer for History and Pedagogy at Fontys Hogescholen in 's-Hertogenbosch from 2006 to 2021. Before 2006 she worked in several Universities for teacher training and in primary and secondary education, including schools for children with special needs. She was a member of the Commission de Rooy, that developed a longitudinal curriculum for History. This curriculum, with ten eras, has been implemented in primary and secondary education and currently (2021) Marjan takes part in the revision of the ten-era-
framework in preparation of the development of new attainment targets.
Marjan has been active in the Board of the VGN (Dutch History Teachers Association) and as treasurer and President in the Board of EuroCLio. She also acted as president of the Organising Committee for the Annual Conference of EuroClio in Nijmegen in 2010. Marjan contributed to the Review of the Canon of the Netherlands (2020) after which she became a board member of the Canon Foundation.
Marjan conducted a PhD on Improving the understanding of historical time in primary school. She published several articles on this topic in educational and scientific journals. Since 2021 she is working as a researcher at the University of Amsterdam in a team, supervised by Carla Van Boxtel, that conducts research on pupils' geographic and historical knowledge and skills at the end of primary school (group 8 – sixth grade).
This Keynote lecture is the first of a series of online keynotes on"Teachers as Researchers". Teachers as Researchers is EuroClio's Special Interest Group dedicated to all EuroClio's Members who are practicing teachers or teacher trainers and, at the same time, are carrying out a research in the fields of history, pedagogy, or history education.
All the keynotes in this series will be hosted by members of the Teachers as Researchers Special Interest Group.
Interested in joining this Special Interest Group? Reach out to Alice at alice@euroclio.eu for more information!
Participation to this keynote lecture is free of charge.
Share This Story, Choose Your Platform!