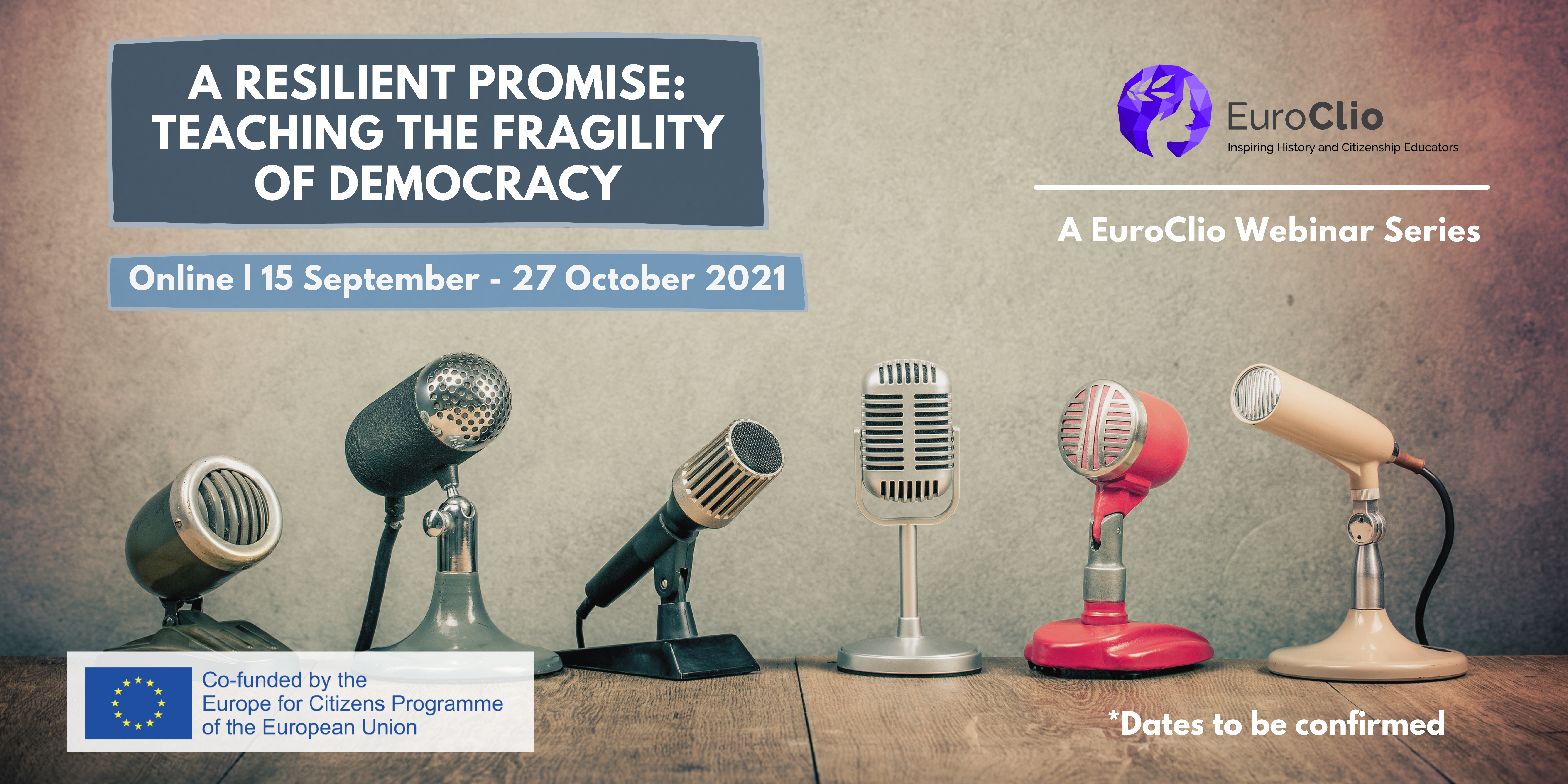 A Resilient Promise: Teaching the Fragility of Democracy
September 15, 2021 @ 5:00 pm

-

October 27, 2021 @ 7:00 pm
"What are the challenges that democracy is facing today?"; "How can we deal with these challenges?"; "Why, regardless of them, is democracy worth fighting for?". But, most importantly, how can we discuss these and more key questions about democracy with our students?.
As the world celebrates the International Day of Democracy on 15 September, we will kick off our webinar series on "A Resilient Promise: Teaching the Fragility of Democracy". During 6 weeks of online events, we  will reflect not only on how to help our students learn about democracy, but also how they can contribute to making it more stable and safe.
The series will consist of five sessions. It will kick off with a keynote on the allure of authoritarianism and on modern populism, hosted by Prof. Takis S Pappas, which will help us set the tone for future sessions by putting us in touch with first-hand experience of individuals who were part of extremist groups in their youth, what appealed to them, and how did they decide to leave this path and promote democracy and
understanding. The keynote lecture will take place on 15 September 2021 at 17:00 (Amsterdam Time), and it will be followed by three active workshops. Each workshop will give participants practical advice and access to tools to promote:
Teachers as Changemakers: The webinar series will close with an interactive session where participants will have the opportunity to share the obstacles they encounter when talking about democracy in their classroom, and to discuss approaches on how to overcome these obstacles. This session is currently set to take place on 27 October 2021 at 17:00 (Amsterdam Time).
The dates are confirmed, and you can already register to this workshop by clicking on the button on the right!
During the webinar series, we will:
Discuss how different generations may view democracy;
Discuss the role that expressing extreme viewpoints has in the classroom;
Discuss best practices for Teachers as Changemakers.;
Investigate the different democratic activities that are available for young people;
Be introduced to tips and tricks to lead debates involving contrasting points of view;
Discuss your experiences regarding the challenges that non-democratic systems pose for the future.
[siteorigin_widget class="Tribe__Events__List_Widget"][/siteorigin_widget]
Registration is now open.
Participation to the webinar series is free for all EuroClio Individual Members, as well as for Members of our Member Associations.
If you are not a Member, you can register to single sessions for a fee of 15 EUR, or register to the full series for 35 EUR.
Would you like to become an Individual Member? Register here.
Not sure if you would like to join the full series? Join our keynote lecture free of charge and take a peak at our work!
[siteorigin_widget class="SiteOrigin_Widget_Image_Widget"][/siteorigin_widget]
We would like to thank our Individual Members for their support in developing this webinar series. The topic has been selected based on input from all members, and the recordings of our sessions are (partially) supported through individual membership fees.
Share This Story, Choose Your Platform!