26th EUROCLIO Annual Conference and Professional Development and Training Course
April 4, 2019

-

April 7, 2019

It is safe to assume that history educators like learning history and want to know more. As a result, they develop a deep historical knowledge, which helps them to make meaningful connections, see new information in its historical context and ask questions to guide research and reading. Students of history do not necessarily have these advantages, and also did not always choose to learn history. This leads to one of the key challenges for history educators: How to interest all students in learning history? How to bring history to life? Want to learn more? Come to the 26th EUROCLIO Annual Conference in Gdańsk, Poland, from 4-7 April 2019!
Programme Highlights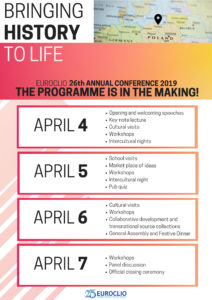 Programme updates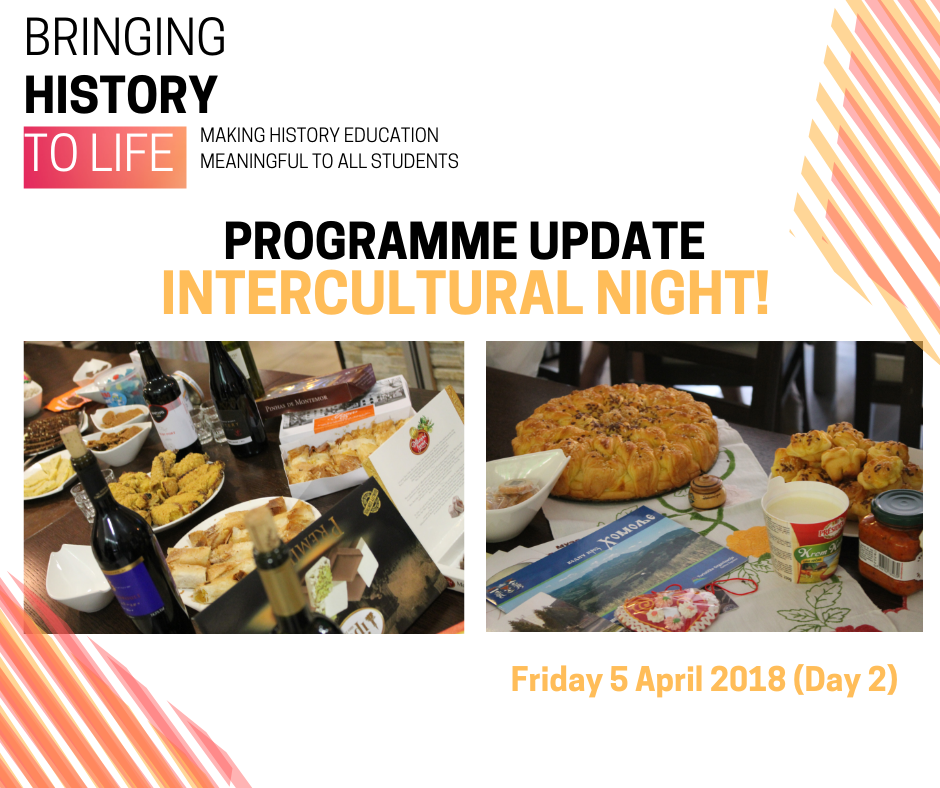 The programme of this year's Annual Conference is gradually taking shape. Some elements, however, are fixed EUROCLIO Conference traditions that return every year and this week's update is definitely one of those!
The Intercultural Night is a fun evening event where every Conference member brings to the dinner an item of food or drink specific to their country for all other participants to try and enjoy!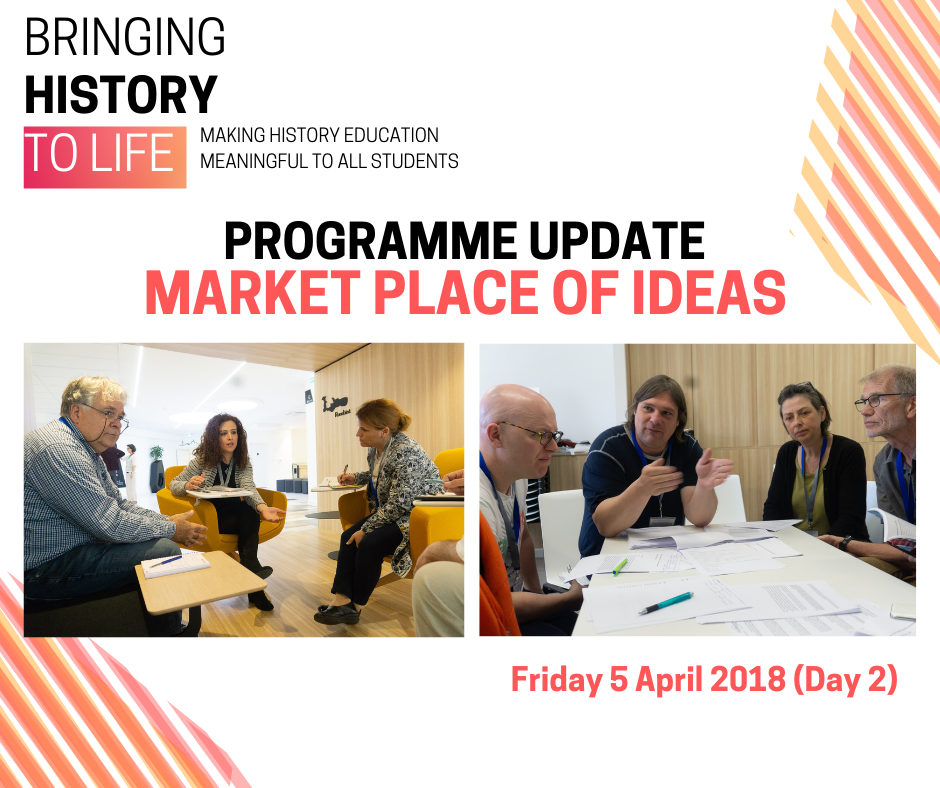 The Market Place of Ideas is a new and exciting addition to the EUROCLIO Annual Conference programme. During this session, you will be able to hear from other educators who they are and what they do. Most importantly, this will be a chance for you to present yourself and your work. We hope this will be a session of exchange, learning and inspiration for all participants.
Stay tuned for future programme updates and if this event has made you curious, register today!
Feedback from previous participants
In case you need some more persuading to register for our 2019 Annual Conference, we thought we would provide some quotes from previous Conference participants. EUROCLIO has been successfully running Annual Conferences since our creation - that you will come away satisfied and inspired is something we strive for each and every year!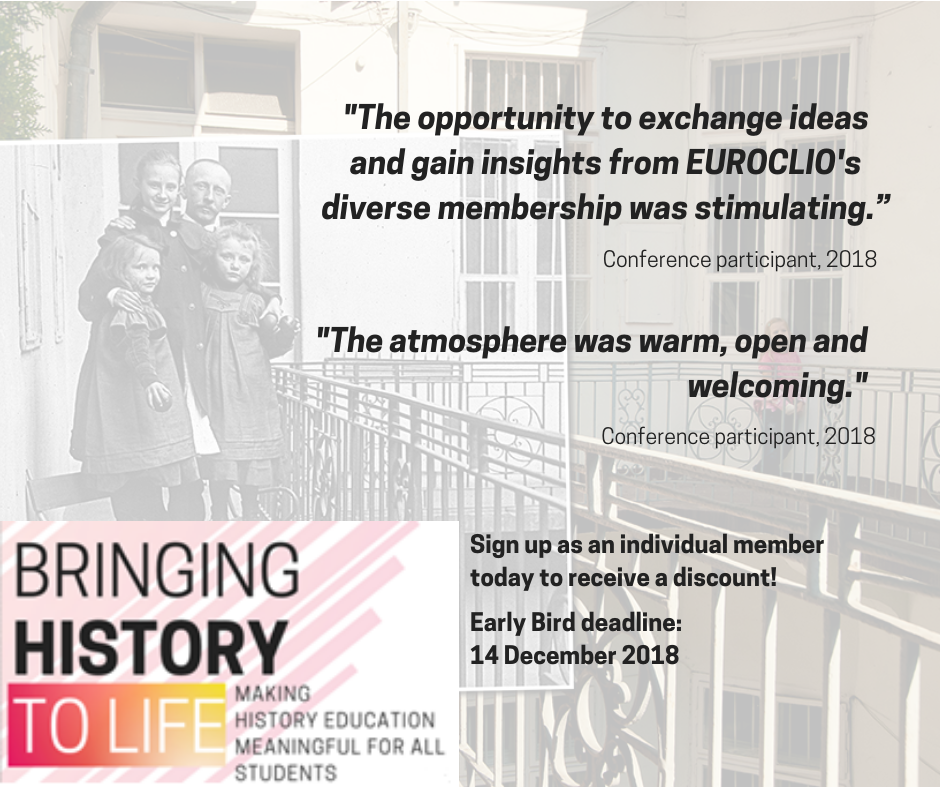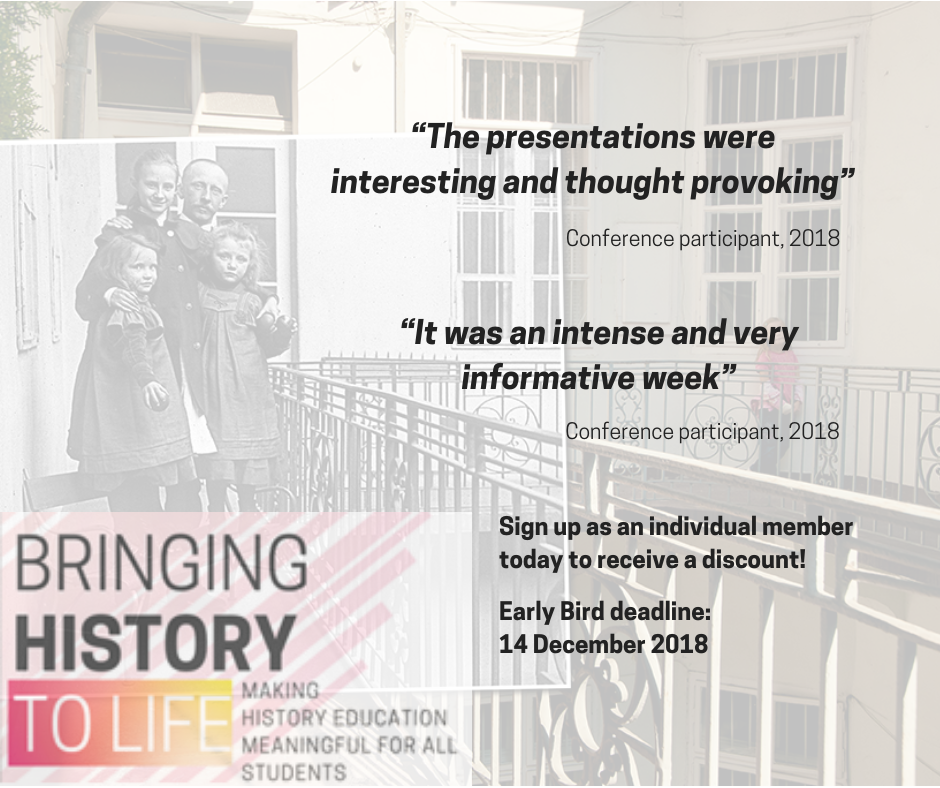 Call for Workshops
This year, we offer 15 different workshops at the conference. Some of these workshops will be provided by strategic partners from EUROCLIO. And of course we want to give our participants the opportunity to contribute to our conference programme! We are looking for inspiring, interactive and interesting workshops that touch upon the theme of the conference.
For more information, please download the Call for Workshops.
To apply, please fill in this Application Form. The deadline for applications is the 30 November 2018.
Practical Information
Opportunities for funding
Ticket Prices
Discounts
Accommodation
The 26th EUROCLIO Annual Conference is eligible for Erasmus+ KA1 funding. Please refer to the international cooperation department of your school or institution for more information. You will most likely need EUROCLIO's PIC in order to secure the funding.
EUROCLIO PIC: 986684001
| | |
| --- | --- |
| TICKET TYPE | PRICE |
| Full Conference 4-7 April 2019 (Early Bird) | €360 |
| Full Conference 4-7 April 2019 | €440 |
| Thursday 4 April 2019 (Early Bird) | €90 |
| Thursday 4 April 2019 | €110 |
| Friday 5 April 2019 (Early Bird) | €90 |
| Friday 5 April 2019 | €110 |
| Saturday 6 April 2019 (Early Bird) | €90 |
| Saturday 6 April 2019 | €110 |
| Sunday 7 April 2019 (Early Bird) | €90 |
| Sunday 7 April 2019 | €110 |
EUROCLIO values the participation of educators from across Europe and beyond, because this leads to greater inclusivity and a more varied group of participants. Therefore, EUROCLIO would like to enable as many educators as possible to join us and offers a variety of ways to attend the Conference. These are
Please note: These forms of support are only applicable for Full Conference Tickets, not single day ones. Only one type of discount can be used.
This year, the conference will take place at the Hotel Scandic in Gdansk (Podwale Grodzkie 9
Gdansk), and we would like to suggest participants to use this hotel as our main conference hotel also as far as the accommodation is concerned. We have negotiated with the hotel a discount code for participants, which will remain active until the 6th of March (one month prior the Annual Conference). Below is the discount code which you can click to go directly to the hotel reservation page and some further considerations.
Discount code: BEUR310319

Valid until: 06 March 2019

Valid for: bookings from 03 to 07 April 2019. Minimum stay is one night

Includes breakfast

Free cancellation until 06 March 2019

Rooms at special rate are limited - book as soon as possible!
Rooms at the discounted rate are limited, so we kindly recommend you to stay tuned and reserve your accommodation at the special price as soon as possible.