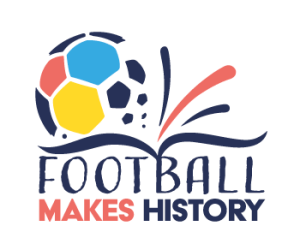 In 2018, EuroClio and partner organisations began work on the Erasmus+ funded project Football Makes History. The project has since continued in a second iteration (Football Makes History II, led by Erasmus University Rotterdam), with an aim to facilitate the work of schools, museums and (local) football clubs in using sports heritage for educational purposes.
To that effect, EuroClio will produce a toolkit providing teachers with a step-by-step guide on how they can build effective local partnerships with football clubs, football club museums and/or other sport organisations. The toolkit should provide teaching strategies, guidance and methodological templates for developing such partnerships, illustrated with existing collaborations and educational activities – such as those conducted by Football Makes History II partner organisations (which include a secondary school in Katowice, Poland and the Eintracht Frankfurt Museum in Germany).
Ultimately, the guide/toolkit should facilitate the work of any teacher in Europe interested in teaching history and citizenship through the lens of football.
To develop the toolkit, EuroClio is currently accepting applications for the following expert consultancy roles:
One lead editor (fee €1,000)

Three contributors (€500)
Please note that all work on the toolkit would be done remotely.
We seek the following profiles:
Practising history or citizenship/civics teacher

Experience developing methodological guides for educators, ideally using sports heritage for educational purposes

Interest in making use of football as a means to hold meaningful conversations with students about local history and heritage

Availability for occasional editorial and progress meetings over the period from spring 2023 until summer 2024 (likely bimonthly and outside of teaching hours)
Interested? Please share a CV and a short motivation text (max 300 words) by email to secretariat@euroclio.eu with email header "Football Makes History: Toolkit expert". The deadline for applications is 1 March 2023.