About 
Established by Steven Spielberg in 1994, USC Shoah Foundation is a global institute at the University of Southern California in Los Angeles, USA. It maintains the Visual History Archive of nearly 60.000 video testimonies of survivors and witnesses of genocides, recorded in 65 countries and 43 languages. These are full life histories, thus unique sources of the 20th century for education and research. They provide a personalized access to history combining macro- and micro-histories, containing local historical information and personal reflections. The testimonies are widely used in history education as well as in multi-disciplinary programs across the curricula.
USC Shoah Foundation works internationally via partners. The primary partner in Europe is Hungarian NGO Zachor Foundation for Social Remembrance that brings the personal perspective into education through student programs, content development and teacher trainings. Other partners in Europe include organizations: NGOs and universities. These partnerships allow the educational materials to be localized, adapted, and tailored to the local educational contexts, needs and curricula.
Approach and Methodology
USC Shoah Foundation and its partners build materials around personal voices, including other sources and contextual documents using multimedia tools and a modern pedagogy.  Its approach to integrate digital tools, historical knowledge, and social- emotional learning conveys content knowledge and academic ability and the materials are designed to also develop critical thinking skills, multi-literacies, and empathy.
Our methodology builds on the Constructivist Theory of Learning where students actively create meaning and interpret information. They construct knowledge and build competencies rather than being passive receivers of content. The lessons and materials can be used in history classes and allow for interdisciplinary collaboration among educators too. 
An important aspect in our work is localization: our content is designed to be flexible, multimodal, highly accessible and offered in multiple formats, depending on the needs for localization. This flexibility enables worldwide use and scalability, while meeting the cultural, linguistic, and curricular needs of each community. This localized pedagogy drawn from a global methodology ensures inclusive educational access to the testimonies by the widest possible audience of educators and students. All our programs are outcomes-based and evaluated to measure impact (learning, behavioral change, motivation).
Platforms 
The two main digital platforms developed by the USC Shoah Foundation and used internationally are the digital educational platform IWitness and the downloadable mobile application IWalk. These educational platforms provide free access to our localized materials for any educator and student at any location.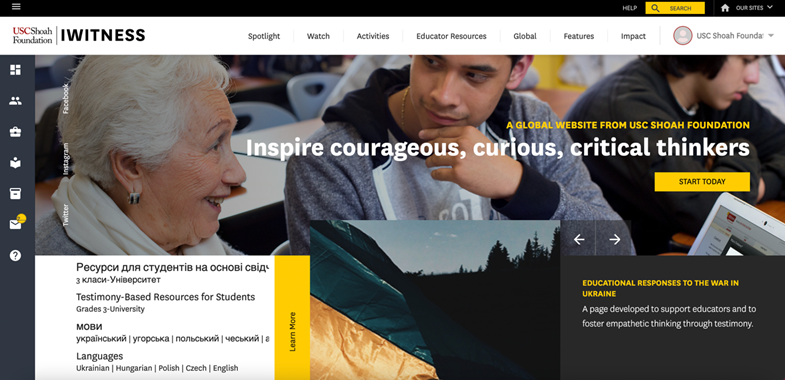 IWitness

is a central portal for testimony-based educational content designed for educators and students worldwide. It combines a subset of the Visual History Archive (about 4000 multi-lingual full-length) testimonies from survivors and witnesses of genocides, and over 500 curriculum specific activities in 18 languages. Full length testimonies in IWitness cover a variety of experiences including the Holocaust, the 1994 Genocide of the Tutsi in Rwanda, 1937 Nanjing Massacre, the genocide in Guatemala and the 1915 Armenian Genocide. 
IWitness brings the human stories – the testimony – to educators and students in the form of dynamic multimedia lessons and resources. The lessons are built around short, curated testimony clips and complement curriculum across many subject areas, including history, social studies, civic education. 
IWitness multimedia lessons promote digital literacy and develop students' 21st century skills, including teaching the basics of research, effective searching, archival curation, ethical editing, and digital literacy. Evaluation shows that lessons in IWitness boost students' subject matter knowledge while developing their critical-thinking skills and empathy. The platform offers multimedia lessons and other resources that engage students to explore and analyze testimony in various ways, in online, offline and hybrid formats. The lessons are supported by other primary source material, such as text, video, poems, photos, and maps.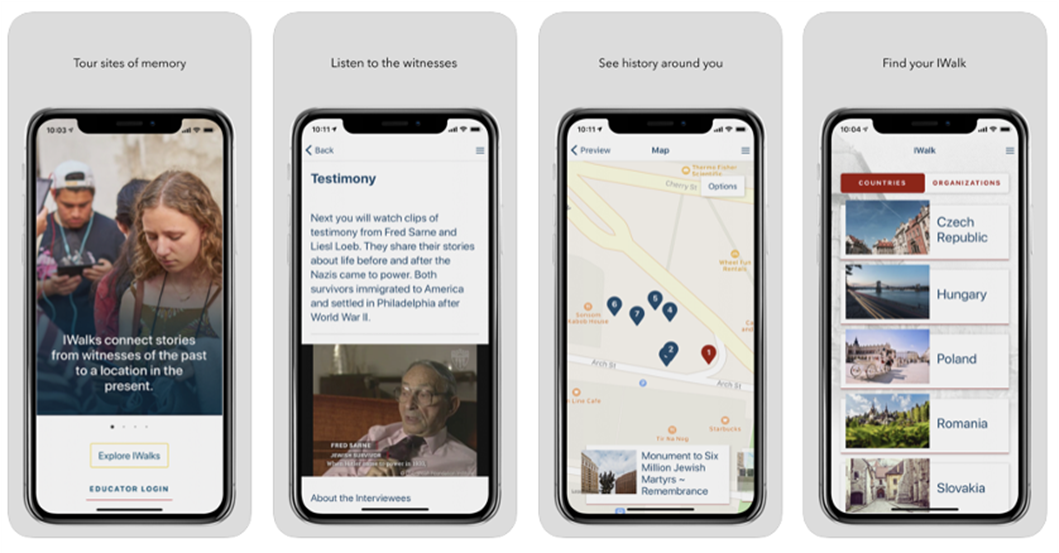 These location-based digital educational modules combine clips of testimony, maps, photos, and other materials with a physical location to enhance on-site learning. Students are given questions that interrogate the space or the primary source they are working with (testimony, photo, map) in the context of the space. They type their responses in the app, which the teacher can access and assess via IWitness.
The IWalk app helps students learn about local history, local Jewish history, World War II, or subtopics like resistance or rescue at a given location. Students can also explore memorial sites with the app. The app currently hosts 47 IWalks in 13 European countries in 11 languages.
Examples 
This project builds on the Kindertransport experience (1938-40) and expands the story of 14-year-old Lisa Jura, rescued but also separated from her family in World War II. The story was originally shared by her daughter, concert pianist Mona Golabek, in The Children of Willesden Lane books and musical performances. The project's innovative approach lies in offering access to this history from the perspective of art. It connects history, art and personal perspectives and is offered internationally (currently  in 9 languages).  The project also targets younger (primary-school) audiences with some educational lessons. Age-appropriate materials for this group largely support their later learning about historical topics like the Holocaust and World War II. 
Teaching Film with Testimony – Final Account (documentary)                     
Teaching Film with Testimony is an interdisciplinary approach that offers educators resources for using film and audiovisual testimony to support contextual knowledge, critical literacy and promote empathy.
Films are widely used in teaching history, an engaging medium that captivates student interest and curiosity with a blend of animation and live action, visuals, music, and other special effects that fosters connections. It is important to note that films, "are supplements not replacements for factual, archival resources" (IHRA, p. 38) Distinctively, audiovisual testimony, a primary source, provides a lens to the past through a first-hand account and details the realities and nuances of a personal story. Films paired with audiovisual testimonies in IWitness contextualize and help recreate the various landscapes (geographical, physical, emotional, and temporal).
Final Account, a documentary by Luke Holland contains interviews with Germans and Austrians, former members of the Nazi party and the SS and struggles with the question of how and why ordinary people actively supported a regime that committed genocide. 
The educational project contains a discussion guide to the film, an Educators' Guide with a number of activities.
The German language version is available here.
Other (feature) films with accompanying educational materials in IWitness include: 
Andrea Szőnyi
Andrea Szőnyi (zachor@zachor.hu) is the director of Hungarian educational NGO Zachor Foundation for Social Remembrance. She is also Head of International Education of the USC Shoah Foundation. She is the author of multimedia and digital, testimony-based educational materials and runs educational programs including professional development programs for teachers in Hungary and abroad. She is an expert member of the Education Working Group of the International Holocaust Remembrance Alliance (IHRA).