To celebrate EuroClio's thirtieth anniversary, we got in touch with two project managers of the EuroClio's Secretariat, who oversaw some of EuroClio's first projects and a period of rapid expansion for the organisation in the late 1990's and early 2000's.
Huibert Crijns graduated in History at Utrecht University in 1996. While looking for a job, a friend from university suggested that he get in touch with her mother. The mother in question was Joke van der Leeuw, co-founder and director of EuroClio. After a successful interview, Huibert was first tasked with writing the annual report of 1996, and later asked to stay on as a full time project manager. 
At that time, EuroClio did not have an official office space, instead operations were based in Joke's dining room. "There were two desks there, one for me, one for Joke, and if we had a meeting it was at the dining table," says Huibert. However, within a year, more space was needed, as another full time staff member was hired as well as a couple of trainees, putting the staff count up to four. "We started occupying more and more room in the house," recalls Huibert. Trainees were set up at the dining table, Joke moved her work into the study, and papers and envelopes were even stored under the bed. "The whole apartment of Joke and her husband Jan became the EuroClio office and in the long term it was not ideal." 
Joke and Jan bought a new place in The Hague, which included an attic that could be repurposed as space for EuroClio. Huibert was given a new office task: "Part of my job was doing redecoration of the new office. So half of the day I was doing EuroClio office work and the second half of the day I was painting or doing all kinds of work to build the new office." This attic space was to become EuroClio's official office until 2008. 
It was the office in the attic that Willemijn van der Toorn joined as an intern in 2001. Like Huibert, she also studied History at Utrecht University, as well as International Relations. Willemijn's first project was organising the 2001 Annual Conference in Tallinn, Estonia. She stayed on after the internship as a part-time project manager in the last two years of her studies, and then switched to full-time upon graduation. "I found it really interesting," she says of working at EuroClio, "because it implemented history in daily life. It's the operational way of history, I really liked that link." This is something Willemijn had not seen as much in her history studies up until that point. And this experience with EuroClio ended up influencing her graduation thesis topic, which focused on how different groups in society were represented in history materials used in elementary schools in what was at the time the Dutch East Indies, modern Indonesia. 
Many of EuroClio's projects at this time were known as the MATRA projects due to their funding source: the Dutch Ministry of Foreign Affairs' societal transformation programme – MATRA in the Dutch abbreviation. This program was launched in 1993 to support the processes of democratisation in Central and Eastern European countries. As Huibert recalls, "this was of course shortly after the fall of the Iron Curtain, so suddenly contacts and communication between history teachers from East and West was possible where that was impossible before for ideological reasons." Countries previously under Soviet influence were in the late 1990s looking to readjust to a democratic system, including their history curricula. EuroClio led these projects funded by the Ministry, which focused on teacher training and creating new teaching materials, textbooks, guides and other resources. The first projects were based in Russia, Estonia, and Latvia, and later expanded to more countries across Europe.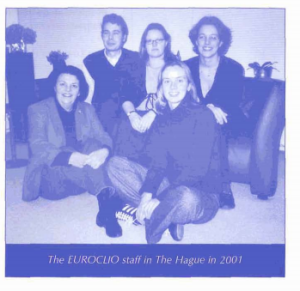 In addition to concrete teaching materials, EuroClio's work also helped to organise local associations. "As far as I can tell, all the member associations were increasingly successful in becoming a speaking partner to their own governments. for instance about their curriculum, which was really something that was in development back then," says Willemijn. "In some countries, there hadn't been an association of history teachers before EuroClio came into the picture." 
Huibert thinks that the work in smaller countries probably made a more long-lasting impact, as opposed to a large country like Russia. "In countries like Estonia and Latvia, you can really say that EuroClio, in combination with the local history educators, really changed history education. So these projects were much more effective."   
Willemijn remembers really seeing the impact of history through working on these projects. "The history that was part of the EuroClio work, sometimes it happened longer ago but it was also still very present. So that connection between past and present, with EuroClio you feel it and you see it, and it's part of the conversations you have. You meet people and you speak to people who tell you from their personal experience how history still influences their daily lives." 
For both former project managers, the chance to travel across Europe had a lasting impression with them, though not without its challenges. Huibert recalls, "I was sometimes a hundred nights a year in a hotel, which was quite hard sometimes and also lonely." This being over a decade before roaming fees were dropped in the EU, expensive long distance minutes meant, as Willemijn remembers, "you didn't phone home, so in that sense when we were away, we were really away."
Still, they both point to the travel as a highlight of their experience. "I cannot say for the average person in the Netherlands now, what they know of countries on the eastern side of the EU," Willemijn reflects, "but at that point I didn't really know so much about these countries, and this work really offered me the opportunity to learn more and to hopefully understand a bit better." The story is the same for Huibert: "It's been such a special experience to travel to so many countries and to really stay there in places where you'd never go otherwise, outside of the normal tourist destinations. To really work with the local people, I found it very interesting, inspiring, and it really gives you another perspective on the world."  
Travel was a necessity in this time. "I remember from those days when the network was expanding quite rapidly, so really Europe in the broadest sense of the word geographically," says Willemijn, adding that Joke even took a trip to South Korea to deliver a lecture. How did this expanding network keep in touch? Willemijn explains: "It was mostly email, but also the fax was very real at that point in time." Not everyone had access to email all the time, and internet connection stability could vary as well. And everyone looked forward, as now, to getting together in person. "The annual conferences were always the highlight of the year, because it was a yearly reunion of the EuroClio family," says Willemijn. "Every year the group was growing, there were more topics added to the list and new colleagues giving workshops."
Willemijn stresses using the word family for EuroClio: "Like a family, we help each other, we are also sometimes critical towards each other. But we are in it together, it is a joint venture." For Huibert, the power to bring colleagues together was the main strength of the organisation. "From what I saw, we managed to inspire a lot of people and history educators to come together on an international platform and discuss their profession. It made them think about their own profession and the topics they were teaching. I always felt that was very valuable."
"Like a family, we help each other, we are also sometimes critical towards each other. But we are in it together, it is a joint venture."

Willemijn van der Toorn, former EuroClio Project Manager, about EuroClio.
Among the successes, EuroClio had a main challenge to face: stable revenue streams. Huibert recalls: "Funding was always very tricky in these years. Mainly because we were almost fully dependent on the Dutch Ministry of Foreign Affairs." "That is very dangerous of course," he adds. Other funding streams such as EU or European Commission applications were very time-consuming with uncertain outcomes. "It was very tricky, it felt a bit like a lottery. You invested a lot in the preparation of the project, then you had to do an application, and you had no idea 'will we get this or not?'". Willemijn finds that "We really had to balance the amount of work we put into acquisition with the work on the actual projects." Another challenge, Huibert explains, "was that funders were often ready to pay for the project but not for the standing organisation. You need an office, and an office assistant, and some kind of director or something to keep your organisation running, but who's paying for that?"
The success of the MATRA projects kept funding coming in from the Dutch Ministry of Foreign Affairs. Huibert notes, "What we did was very tangible, very concrete. We had a clear mission and good products, good cooperation, and good networking in these countries. So the Ministry of Foreign Affairs loved us, and we loved the Ministry of Foreign Affairs." However, in 2005, the funding from the Ministry stopped and, without that main funding source, most EuroClio activities came to a standstill and all staff except for two members had to be let go. This was how Willemijn and Huibert both came to leave EuroClio in 2005. Thankfully today, EuroClio has rebuilt itself into a stable organisation with diverse funding streams. Looking back, Willemijn sees it as a time when EuroClio was perhaps finding its footing as a new NGO: "Donors sometimes need a little bit of time to decide where to spend their money. And as far as I can tell, from a distance now of course, it has become more stable in that respect which is a good thing."
When asked what they think had changed from their experience working at EuroClio then to now, both Willemijn and Huibert noted the international makeup of our current secretariat and trainees. "When I was working at EuroClio the staff was really Dutch," recalls Huibert, a Dutchman himself. "And nothing is wrong with that, but for an international organisation I think it's much better and it makes a strong impression if you have a really international staff." Willemijn, also Dutch, finds that "the staff is bigger, more people and much more international. I think the current composition of the staff reflects the EuroClio mission really well." 
It has been over fifteen years since Willemijn and Huibert both left EuroClio. Willemijn now works for the Dutch Ministry of Foreign Affairs, currently as a diplomat in Düsseldorf. She had her first introduction to this work through the MATRA projects, as Dutch ambassadors would be invited to see their work in the project country. "So that sort of triggered my interest for 'what is it that these diplomats do?'," she explains. Willemijn's EuroClio experience affects her current work in other ways as well, as it introduced her to the often political background of history education, and its constructed nature. "What choices do you make, what selection do you make, which sources do you use, who's saying what and with what intentions? That's something that I really benefit from also in my current job, where you always have to deal with different opinions with policy, and you really need these skills. So I'm a firm believer still in these critical skills that history education teaches you, and it's part of my life, part of my work."  
Huibert is currently the history specialist at the KB- NationaleBibliotheek (National Library of the Netherlands). The library is more focused on heritage and academic research, and not as much the history education which Huibert's time with EuroClio touched on. However, that will soon change. "Recently the library started a small cooperation with EuroClio which I like very much. This is about digitised newspapers. A lot of newspapers are digitised in the Netherlands and also many other countries in Europe. We're starting an international project now on finding out how we can better use these digitised newspapers in history education: looking for best practises, looking for source material, and making educational applications using these historical newspapers. Because of my background in EuroClio, I always thought that these newspapers could be made into very interesting educational material, and we should use it."
Having been with EuroClio during some of its most uncertain moments, both project managers are pleased to see the organisation continue to grow and thrive. "It's so great that EuroClio still exists and is still doing well," says Huibert. "I realise that I was somewhere at the beginning of this development and now it's still running, which is great." Willemijn says: "I think it's never finished, this mission of EuroClio. And it's good to think that EuroClio is still there. I remember we celebrated the ten year anniversary, and now it's thirty!"