In September 2021, I had the honour to be invited by EuroClio to attend the works of the project "Heritages of Hunger" in the Radboud University of Nijmegen, the Netherlands. Having participated in one of EuroClio's previous projects – "Learning to Disagree" (2018-2020), whose topic was "The Big Famine in Greece: 1941-44" – this ongoing project in Nijmegen absolutely fitted my interests.
Unfortunately, due to the Covid-19 pandemic, which caused new restrictions in the Netherlands and almost every European country in early December, the meeting was held online on 14 and 15 December.
The project
Firstly, let me briefly describe the project in its basic outlines. European famines between 1845-1947 and their legacies have not ceased to divide European communities. In cultural and public spaces, debates about major challenges that Europe is currently facing are often inspired by the legacies of troubled famine pasts.[1]
Although the famines that took place in the Netherlands, Belgium, Germany, Finland, Ireland, Greece, Russia, Spain, and Ukraine between 1845 and 1947 occurred in different socioeconomic and historical contexts, the project seeks to show that their memories are also marked by significant similarities. As such, they offer a solid foundation for mutual understanding, and expressions of responsibility, reconciliation, reparation, and solidarity. Solidarity clearly manifested itself in relief schemes set up between countries and organised by individuals, philanthropic societies, and transnational agencies.
The aim of the "Heritages of Hunger" project is to uncover the significance of European famines in both formal education, such as schools, and informal ones such as educational programmes launched by museums. The team[2] will develop a Massive Online Open Course (MOOC) designed to reveal the ways in which nation-specific heritages of European mass starvation engage with other European famine legacies, and offer materials and methodologies that can be used in learning practises. Moreover, the team will develop a digital repository of textual and visual sources about European famines that can be implemented in schools and museums.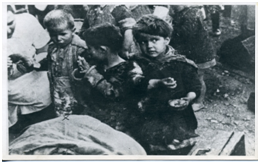 Source: Contemporary Social History Archives (ASKI), Digital photo collections and archives, Newspaper "Avgi", Photographer A. Angnostakis, 1940-49 00007.
The event
Both days (14 and 15 December) consisted of a consortium meeting and public lectures. During the consortium meetings, feedback was provided on past research and valuable advice and brainstorming ideas were given for the future of the project. Here, emphasis was given to the role played by schools and teachers in the preservation of difficult famine memories across various European countries, and the co-operation with EuroClio was strongly underlined. Memory of famines should be communicated between countries as a common culture and should be linked with today's problems, such as epidemics, climate change, and refugees. The Historiana platform, where textual and digital materials as well as learning activities are incorporated, was introduced by EuroClio to the project team, and its pedagogical role was regarded as vital. However, the problem concerning the translation of the Teacher's Guide into different European languages was pointed out as a disadvantage.
The roundtable and breakout discussions take into account a wide variety of topics related to practises of remembering famines. It stood out that the creation of a catalogue with European famines represented through objects would be a good idea to proceed with.
In the public talks, which were open to a wide audience, six scholars (three each day) lectured and answered questions from participants about different periods of hunger across the world. I was deeply impressed by the profound perspectives of the researchers and the interesting insights that they pointed out. I have noted down the Irish saying of "Truth can be bitter", and the fact that survivors' cruel memories can be hidden for a long time until historians come and establish what happened in the past.[3] No matter where you live, whether in urban or rural areas, the problem has to do with income: the poor, regardless of their homeland, are increasingly subjected to suffering as caused by famines.[4] In different countries and different historical periods, famines can be blamed for serious long-term health degradation.[5] Philanthropy in countries suffering from hunger can have a universal character.[6] A totalitarian regime can subject a whole nation to mass starvation in order to quell resistance, without ever admitting it.[7] The last lecture, where a rich collection of sources about famines in European countries during World War II was presented by Tatjiana Tonsmeyer, was a real surprise for me.[8]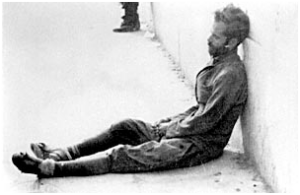 Source: Athens, Photographic Archive of Historical and Ethnological Society of Greece © Historical and Ethnological Society of Greece
As a conclusion, the event was a success with a fruitful exchange of future strategies and opportunities, excellent input on the project directions and progress, and highly inspiring presentations. Congratulations to the organisers (Prof. Marguérite Corporaal, main applicant and principal investigator, Dr. Ingrid de Zwarte, Prof. Lotte Jensen, Dr. Gloria Román Ruiz, Dr. Lindsay Janssen, Charley Boerman, MA, Anne van Mourik, MA). We are looking forward to seeing you all, in person, at Valkhof Museum in Nijmegen in late June.
About the author
Vassiliki Yiannou is a Greek language and History teacher, who holds an MA in Educational Studies and is now based in Thessaloniki, Greece. She has worked with EuroClio in the Learning to Disagree project, where she has developed a viewpoints collection and a learning activity on the 1940s Greek Famine. You can check out this insightful collection and activity on Historiana, following these links:
https://historiana.eu/historical-content/viewpoints/surviving-under-pressure-famine-in-greece;
https://historiana.eu/learning-activity/famine-in-greece.
References
[1] For instance, in March 2015, Greece's Prime Minister Alexis Tsipras stated in a speech to parliament that Germany, instead of demanding further cutbacks from Greece, should make reparations for its pillage of the country during WWII, which, in his view, had caused famine and deprivation.
[2] Consortium partners come from multiple countries and disciplines and provide co-funding, advice and specific expertise relating to teaching, conservation, and research of hunger, etc. The Dutch Resistance Museum in Amsterdam, EuroClio, Museum of Rotterdam, The Irish Heritage Trust, the Research and knowledge Transfer of the University of Granada, Spain, Holodomor research and Education Centre Kyiv, Finish Labour Museum, Werstas, Holodomor Research and Education Consortium, Toronto, Canada, Ireland Park foundation, Toronto, Canada are among others.
[3] Cormac Ó Gráda, "Behold a Pale Horse: Horrors of Heritages of Hunger" (lecture, Heritages of Hunger Public Symposium, December 14, 2021).
[4] Mary Cox, "Heritages of Hunger and Understanding Unequal Suffering of Civilians in War-time" (lecture, Heritages of Hunger Public Symposium, December 14, 2021).
[5] L. H. Lumey, "Examine the long term impact of the Ukrainian Holodomor of 1932-33, the Dutch Hunger Winter of 1944-45, and the China's Great Leap Forward famine, 1959-61" (lecture, Heritages of Hunger Public Symposium, December 14, 2021).
[6] Andrew G. Newby, "Hard is the Guest Whose Name is Hunger: Philanthropy and Humanitarian narratives during Finland's great Famine, c.1856-68" (lecture, Heritages of Hunger Public Symposium, December 15, 2021).
[7] Miguel Del Arco Blanco, "The Spanish famine, 1939-42 and 1946: A Silent Famine in Southern Europe" (lecture, Heritages of Hunger Public Symposium, December 15, 2021).
[8] Tatjiana Tonsmayer, "Book Launch: Fighting Hunger, Dealing with Shortage under Occupation in World War II. A Source Edition" (lecture, Heritages of Hunger Public Symposium, December 15, 2021).
More information about the Heritages of Hunger project can be found here: https://www.ru.nl/rich/our-research/research-groups/transnational-europe/current-projects/projects/heritages-hunger/.