The 31 of August, the project Strategies for Inclusion – Making High Quality History Education more Inclusive and Accessible was successfully completed.
During the three-year period of implementation, EuroClio, along with its other partners in the project (AEMoV, CIVITAS-Armenia, Hogeschool van Amsterdam, NTNU, ZGNL) worked intensively to produce a variety educational materials and to collect good practices. The materials are now available for all the history and citizenship educators who are looking for new methods and ideas for making their teaching more inclusive and accessible.
As a consequence, there are now available for free consultation and download 35 good practices on inclusive education and more than 20 learning activities specifically designed to provide history and citizenship educators with tailored-made strategies to make their teaching inclusive and accessible to all the students in their classes, including the ones with special needs.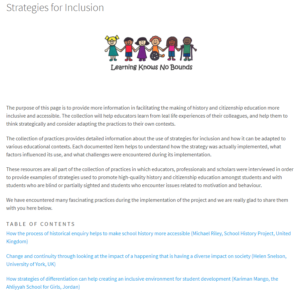 The 35 practices can be found in the EuroClio resource center. All the practices are  structured in an easy-to-read way, and are easily replicable in the classroom as they are or transferable to educators' specific contexts and needs.
Each practice includes a summary of the strategy, a brief introduction of the person who designed it and the rationale behind it (the 'background to the practice') in which it was made. Then, each practice is described in detail, and obstacles and lessons learned, as well as the effect of the practice, are introduced.
In addition, 20 learning activities have been made available on the Historiana.eu learning environment. These activities were developed in English, and then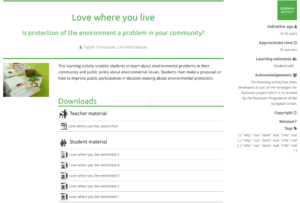 some of them also translated in the official languages of the partners in the project: Armenian, Dutch, Portuguese, and Slovenian.
All the activities from Strategies for Inclusion are available in the Historiana – teaching & learning session, along with other materials developed in a variety of other projects. You can go through all the learning activities, but in case you would like to select only the Strategies for Inclusion ones, it is sufficient to type in the search bar under the teaching & learning session of Historiana, Strategies for Inclusion.
All the learning activities are ready-to-use. You can find practical information on how much time the activity will take, the age it is suitable for its aims. Most important, teachers and students materials to implement the lesson are available for download at the bottom of the page.
Throughout the journey of this project many valuable practices and learning activities have been collected and developed, and we really encourage you to share and use them.