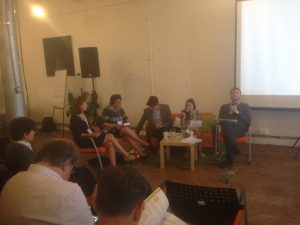 During the Annual Conference of the Lifelong Learning Platform, taking place from 31 May-1 June in Bratislava, EuroClio was represented by Joke van der Leeuw and Laura Steenbrink, who actively participated to the Annual Conference. The conference was opened by the LLLP President David Lopez and representative of the Slovak Ministry of Education, ms. Ildikó Pathóová. Dr. Eva Gyarmathy, Senior Researcher in Cognitive Neuroscience and Psychology, and Kati Anttila, former State Secretary for Education and Culture in Finland, were the keynote speakers of the Conference. Both of them gave inspirational opening speeches that paved the way for separate discussions in workshops later on.
These workshops focused on five different aspects of educational society and community and were called Diverse, Digital, Knowledgeable, Integrated and Democratic Community. The fifth workshop, "A Democratic Community", was moderated by Joke van der Leeuw and focused, among other, on how to mainstream citizenship education in everyday life, starting with learning participation and democratic governance in educational institutions. During the second workshop, "A Digital Community", Laura Steenbrink presented an example of EuroClio's practical experience with digital education and media literacy to the participants. More specifically, she presented the Europeana-EuroClio cooperation project, where source collections on various topics are created and made available on Historiana. During the workshops, the participants worked together on the creation of a set of policy recommendations regarding the five topics, that were presented to all participants in a plenary session by the moderators, followed by a plenary discussion.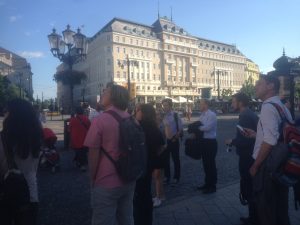 The day ended with simultaneous cultural activities in the town of Bratislava, followed by a wine tasting in the surroundings of the city with a dinner. The participants had a choice between a guided tour in the old town of Bratislava organized by ESN Slovakia, and a field visit to a Training Centre in Bratislava, organized by AIVD.
The second and final day of the conference was called Project Development Day and focused on funding, project applications and a small networking session. The first part consisted of a plenary session with three speakers that elaborated on their vision on funding. Irene Fodonova, of the SAAIC-Erasmus+ National Agency on Slovakia, presented the ins and outs of Erasmus+. Jirí Sykora, Strategic Coordinator of the Visegrad Fund, discussed the opportunities of the Visegrad Fund. Finally, Dusan Janickovic of Horizon 2020 Support, Slovak Scientific and Technical Information Centre, elaborated on the Horizon 2020 funding opportunities. After the participants were fully informed about a few different, but relevant funding possibilities, Ildiko Mazar, Deputy Secretary General of EDEN, gave a session with tips and tricks for project applications. The last part conference was dedicated to a plenary session where participants could propose interesting ideas for possible partnership or projects to the group. Finally, the participants split up and joined the participant that, for their organisation, was the most relevant topic and shared some networking opportunities, general thought, critical questions and feedback.