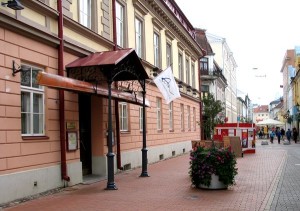 In the Memorial Church for Soldiers in Tori, there is a millstone altar which does not grind grain but iron bullets. There iron bullest represent the Estonian people, who, despite of the hard pressure of the stone – or posed by history challenges, have no intention to get ground. The Estonian history has had a Swedish era, Russian era, Soviet era and German occupation, and still many other eras, but fortunately, there is an Estonian era in this long line, as well. The era is symbolized by things and deeds which have extraordinary significance for Estonians.
The 17th pupils' history research papers contest is dedicated to these significant deeds and essential things. The topic for the contest "Estonian Cause" offers a wide range of possible approaches for the pupils. Even wording and defining of this so called Estonian cause requires consideration. The range of possible topics is unlimited.
The competition is for two age groups – the basic school level (forms 7 to 9) and secondary school level (forms 10 to 12; vocational schools). As an innovation, this year's contest allows pupils to write a creative paper which enables to approach the topic from a more practical angle. Hopefully, different opportunities encourage pupils and motivate supervisors.
The deadline for posting the research papers is on 1 April, and the award conference will be on 6 May 2016 in Tartu. The supporters of the contest are The President's Cultural Foundation and The Ministry of Education and Research of Estonia.
To acquire inspiration for the research paper, the Estonian History and Civics Teachers' Association organised an educational seminar for the research writers and their supervisors during autumn school vacation. The seminar was carried out on October 19 in Estonian Sports Museum.
The Researcher-Curator of Estonian National Museum Piret Õunapuu spoke about old Estonian things. Lector Stina Sarapuu introduced the audience with the website Museums Public Portal where one can get acquainted with the collection of different museums. The Head of Collections of Estonian Sports Museum Kaarel Antons gave a lecture on Estonian sportsmen and sports events and took the participants of the seminar to an exciting museum excursion.