[PARTNER] Innovative Social Studies and History Lessons
This project is part of the Civil Society Dialogue Programme, co-financed by the European Union and the Republic of Turkey under the Instrument for Pre-accession Assistance (IPA). The overall objective of the project is to develop pedagogical skills of teachers and students on Differentiated Skills and Competences-Based (DSCB) Instruction through cooperation with European networks.
The project team is made up of experts who have worked together successfully in the past. An issue that was recurring was the lack of differentiated skills and competences-based (DSCB) instruction in Turkish schools. Furthermore, research carried out by one of the project experts for UNICEF about schooling of disadvantaged students concluded that teachers in Turkey feel that they lack most skills of dealing with diverse needs of students in the class. Finally, the need for such project was uttered by teachers who were having an in-service training organised by the Ministry of Education. With these considerations, the project team decided to propose a project that directly involves with training teachers of the pedagogy of DSCB instruction.
Project Aims
To provide professional development trainings to social studies teachers and student teachers to build their capacities in DSCB instruction
To produce a resource book that includes differentiated materials and activities for teaching key skills and knowledge for teachers, student teachers and teacher educators
To produce a Teacher Training Manual that includes materials and activities to be used in pre- and in-service trainings by teacher trainers
To strengthen the dialogue, cooperation and networking between NGOs and professionals in the field
To find out challenges and opportunities in implementing DSCB classes in middle schools in Turkey
Expected outcomes
Pre- and in-service trainings on how to achieve DSCB instruction to 40 social studies teachers and student teachers
Innovative resource book with differentiated teaching materials and activities to be used in social studies and history classes
Teacher Training Manual to be used by teacher trainers on how to attain DSCB instruction
Strengthened dialogue, cooperation and networking between NGOs and professionals
The identification of challenges and ways ahead in implementing DSCB instruction in Turkey
Increased learning, skills and civic competences of students
Expected results
An extensive literature review about DSCB instruction
An empirical research with teachers and students: to detect the current situation in Turkey about DSCB instruction
A book chapter for the conceptualization of DSCB instruction
A study visit to Netherlands
In-service trainings, training materials and a resource book for teachers and students
A seminar in which an expert from EUROCLIO will share international experiences
A network between the teachers and the students
Website
Visibility materials such as leaflets, brochures
Seminars, press conferences and visibility materials: to increase awareness about the project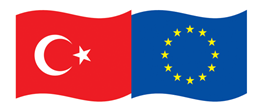 This Programme is co-funded by 
the European Union and Republic of Turkey
Coordinating Partner

Erciyes Üniversitesi (Turkey)
Project managers
Jonathan Even-Zohar
Director, EUROCLIO - European Association of History Educators