UNITED network conference: "Living Together: Transform a divided past into our common future"
October 26, 2016

-

October 31, 2016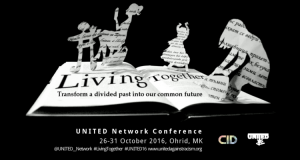 The Conference will take place from 26-31 October 2016 and focuses on conflict resolution, reconciliation and nation-building. "Our lives as a community depend on how we can handle cultural, social and ethnic differences, and make strength out of diversity. Our success as nations depends on how we can learn from the experiences of our ancestors and not repeat the same mistakes again and again. When we select our leaders, we must pick them carefully, avoiding those that wish to set segments of society against each other, or appear to be fighting against imaginary or selected enemies instead of working for the best interests of all. As societies, we must come up with better visions and strategies for Living Together, and learn to accept that although this is not always easy, it is necessary." UNITED strongly invites activists from anti discrimination organisations to join their conference. Currently nominations are open and the deadline is 15 August 2016.
For more information on Programme, latest updates and financial conditions check the UNITED Conference page.
Share This Story, Choose Your Platform!