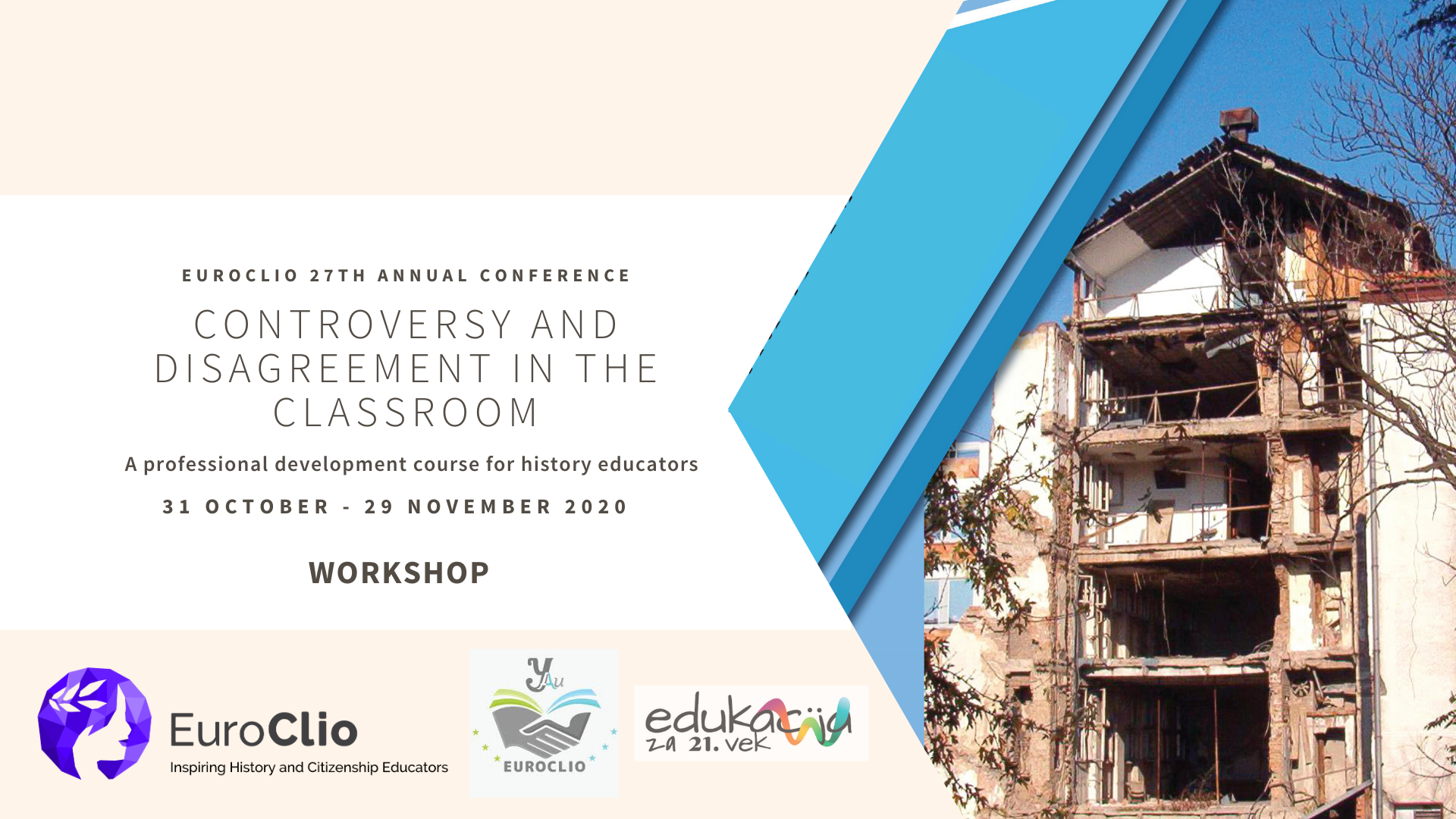 Surviving Under Pressure: Surviving in a War Context (WW2 and Algerian War of Independence)
November 13, 2020 @ 4:30 pm

-

6:30 pm

|

€15
This workshop is the product of the Learning to Disagree project and will help those who want to engage all students, even those who do not usually speak up, in debate.  This project was initiated in response to the needs of educators who experience difficulties in addressing sensitive and controversial issues in their classrooms. The project, now in its final stages, offers trainings and support materials for teachers to face these topics head-on with their students. These materials aim to teach students vital skills such as the ability to listen, to consider alternative interpretations, and the ability of interacting with people that they disagree with in a constructive manner.
Ann-Laure, Burcu, and Vassiliki, all members of the core team of Learning to Disagree. They have blended three new learning activities into one workshop.
They will introduce the teaching strategy of the "silent placemat conversation".  This strategy has been developed to facilitate calm, thoughtful and democratic discussions in classrooms, as all discussions are conducted in silence. Students will be asked to contribute to the discussion by writing their arguments on paper. This workshop will introduce you  to the workings of this activity, whilst also addressing how this activity can be adopted to your classroom. Additionally, this workshop will introduce the "K-W-L chart" assessment strategy. This strategy teaches students to reflect on what they know and what they want to know prior to an activity and what they have learned after the completion of a lesson (What do I know, what do I want to learn, what have I learnt). This workshop will use three different case studies and nine viewpoints.
About the Workshop Hosts
Vassiliki Yannou was born in Atra, and now lives in Thessaloniki. She graduated from the Department of History and Archeology from the Aristotle University of Thessaloniki and also holds a MA in Educational Studies from the Open University of Cyprus. For this Ma she did research on the topic of the role of research projects in upper secondary education in Greece. She has taught on the subjects of the Greek language and history History at the upper secondary education in Greece for twenty years. She has been the school librarian since 2015.She has been the deputy Headmistress at the 2nd General Lyceum of Evosmos, Thessaloniki since 2017. Additionally she runs (in cooperation with other colleagues) the rhetoric school club and took part in national school rhetoric competitions.
She also took part in several Erasmus+ ( KA1, KA2, KA3) projects from Euroscola, Teachers for Europe, and EuroClio, which span across the topics of history, literature, culture, citizenship, and school libraries.   She frequents seminars and recentely went to seminars titled: Teenager's mental health and relationships, Museology and education, Didactics and assessment of History, Distant learning in education.
She speaks Greek, English, and French. She is a mother of two.
[siteorigin_widget class="Tribe__Events__List_Widget"][/siteorigin_widget]
27th Annual Conference
This workshop is part of the 27th EuroClio Annual Conference on Controversy and Disagreement in the Classroom. You can find more information on the Annual Conference, including the full programme, on the Annual Conference main page.
Workshop Fee
You can register to this single workshop for 15€ , or register to multiple workshops for a reduced fee.
Participation is free for Individual Members, Member Associations, and Ambassadors. Reach out to Djoera at djoera@euroclio.eu to know how to join.
Learning to Disagree
This and many other workshops are based on the Learning Activities and Variety of Viewpoints developed for the Learning to Disagree Project. You can find the Lesson Plan on "Standing up to Power" on Historiana.
Take me to the Lesson Plan on Standing up to Power…
You can find the Lesson Plan on "Great Famine in Greece 1941-1944" on Historiana.
Take me to the Lesson Plan on the Great Famine in Greece 1941-1944.
Share This Story, Choose Your Platform!