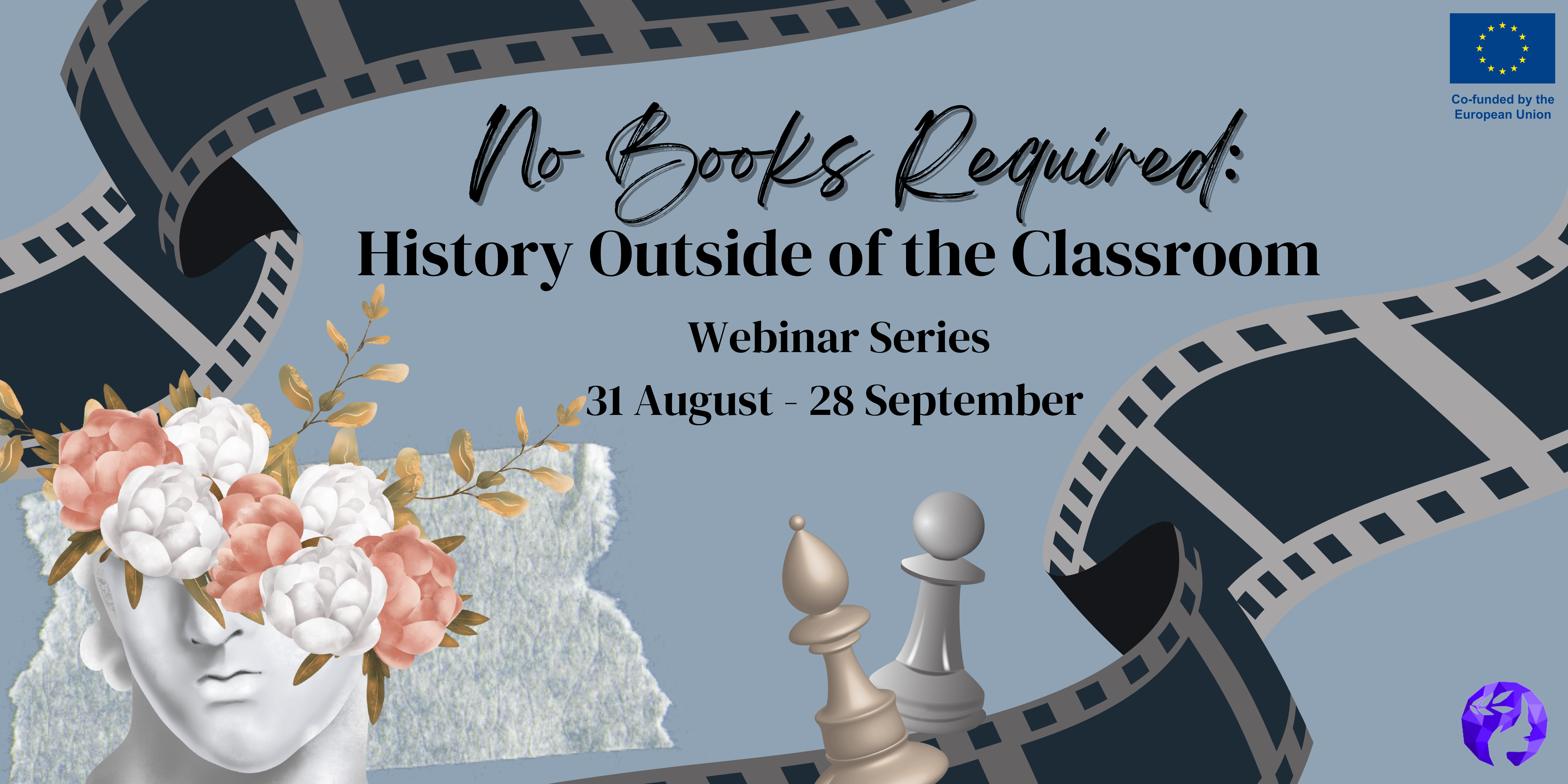 No Books Required: History Outside of the Classroom
August 31, 2022 @ 5:00 pm

-

September 28, 2022 @ 7:00 pm
It is safe to assume that history educators like learning history, want to know more, and are acutely aware of how the past shapes not only the present, but also popular culture today. Many books, songs, movies, theatre plays, games, and other media that we encounter on a daily basis are in fact influenced by past events and historical interpretations.
Students did not always choose to learn history, and often do not have the advantage of understanding these nuances. Simply put, some students fail to see how history is all around them.
In this webinar series, we aim to explore exactly this topic, tackling the questions:
• How can we help our students understand that history is all around them and past events have ramifications that we can see today?
• How can we use innovative teaching strategies to engage our students and promote historical understanding?
Join us for a series of keynote lectures, sharing sessions, and active workshops to discuss the topic of history outside the classroom.
Structure
The first two sessions of the webinar series, on oral history and (board) games for history teaching, are pre-recorded (please see below for more detail). They will be followed by the online course, which will kick off in late August with a keynote lecture, two active workshops, and a final sharing session:
31 August 2022 @17:00 (Amsterdam Time): Keynote Lecture on "History in and beyond the classroom: Practicing public history as project-based learning", hosted by Prof. Thomas Cauvin.
"Conceptualized in the 1970s as history done outside the classroom, public history offers opportunities to connect universities, schools, cultural institutions and a variety of public groups. In this talk, I present how public history has been defined, practiced, and taught in different contexts. I argue that its project-based methodology, its connection to present-day issues, and its focus on public communication make public history an extremely useful approach to teach history."
07 September 2022 @17:00 (Amsterdam Time): Active Workshop on "History and Cultural Heritage", hosted by Lidija Suica.
20 September 2022 @17:00 (Amsterdam Time): Active Workshop on "Theatre as a medium for History Education", hosted by Prof. Vera Cantoni. Please note that this session will take place on Tuesday, as opposed to what already announced.
28 September 2022 @17:00 (Amsterdam Time): Final sharing session on "Plans and Constraints", which will be hosted by Alice Modena and will see you, the participants, taking the floor.
———
THE FIRST ADDITIONAL TEACHING STRATEGY IS NOW ONLINE
As previously announced, within this webinar series we will also post two pre-recorded strategies on our YouTube channel. As of today, you will be able to find the first strategy in a brand new playlist called: "Teaching Strategies".
We have decided to split our strategy on Oral History in three, bite sized, parts. Feel free to check the following videos out whenever most convenient for you:
The second strategy, on teaching using Board Games, will be published in September!
During the course we will be sharing teaching strategies, experiences, and practical tips and trick to: (1) promote students' understanding of the role of history education in changing the world and the complex relationship between times, spaces, and identities in a historical context; (2) raise their awareness of the connectedness between past and present through on-site learning, and reflection on the teaching of history across and beyond Europe; (3) promote participants' access to new partnerships; (4) open up access to innovative history education tools from across the world with a focus on learning history outside of the classroom.

The course will result in a resources booklet that will be shared with all active participants.
Share This Story, Choose Your Platform!