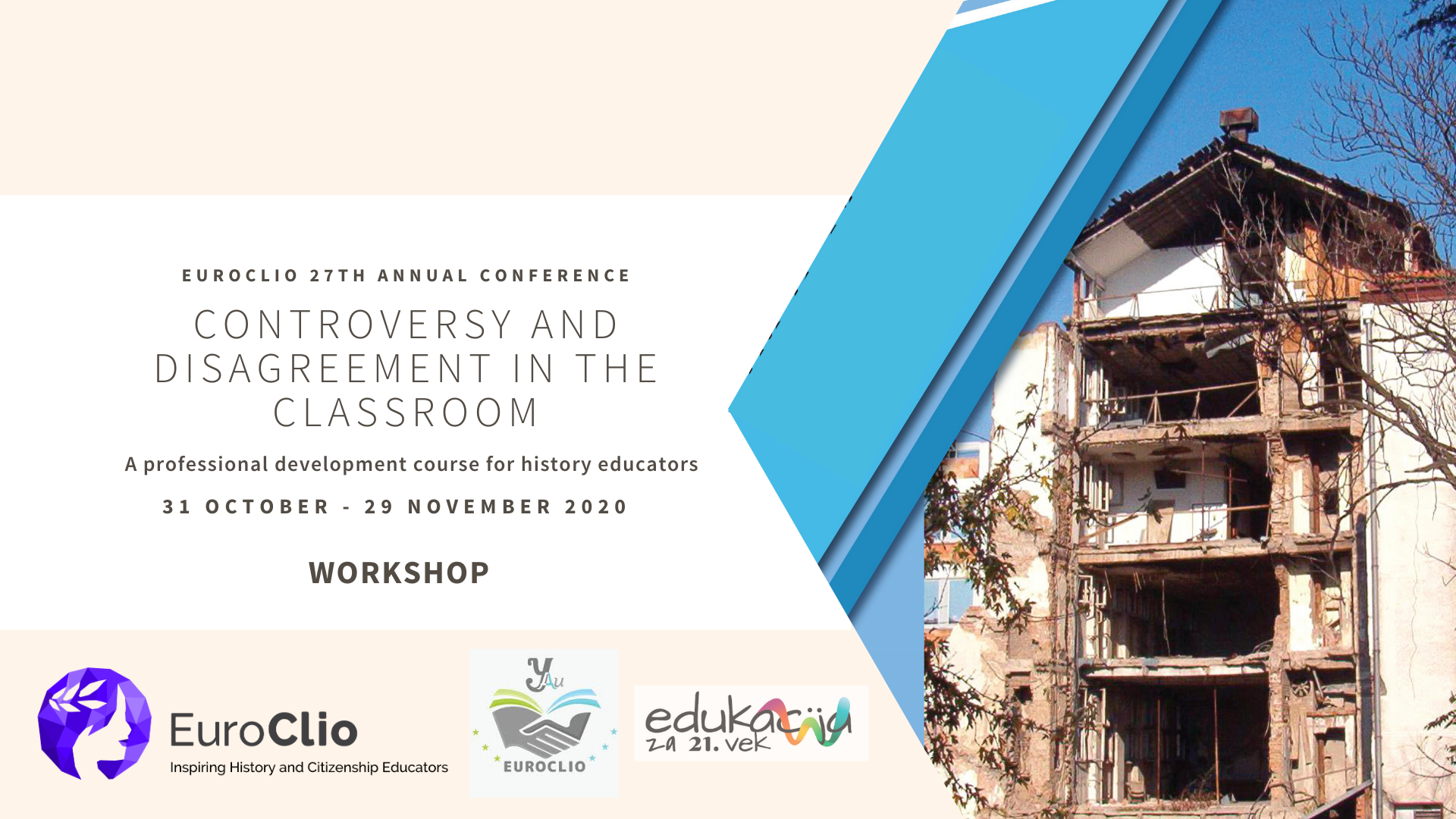 In Europe Schools
November 11, 2020 @ 4:30 pm

-

6:30 pm

|

€15
In 2019, EuroClio and Dutch national broadcaster VPRO joined forces and developed In Europe Schools – A Unique Exchange Project for European Schools! Inspired by the VPRO-series In Europe – History Caught in the Act, EuroClio and VPRO produced four different Education Kits on Modern European History: Difficult History, Migration, Climate Change and Gender Equality.
In Europe Schools matches participating schools to another participating school elsewhere in Europe to exchange and reflect on their end product: A documentary made by students! Based on the topic and a research question, students are encouraged to dive into their own local histories, do research, and process their answers into a documentary.
During this workshop, author Harri Beobide will demonstrate one of the newest Education Kits on Climate Change, which will focus on the question: How do we deal with Climate Change? She will be joined by VPRO's Odette Toeset and EuroClio's Steven and Eugenie who will present how this project came about, how it works and how to fully use it online.!
For more information about the project, please visit:  www.vprobroadcast.com/ineuropeschools. In the meantime, please have a look at the Climate Change Starter Clip below! See you on the 11th of November!
About the Workshop Hosts
Harri Beobide (Basque Country, Spain) graduated in Modern History from the University of Deusto, currently coordinates Social Science school-materials of Ikastolen Elkartea (Association of 100 Basque medium schools) in Basque and English, within a competence-based curricular framework.  She also teaches and delivers in-service training to teachers of the same network. She is an ambassador of Euroclio and has participated in the creation of various learning materials within different projects.
Odette Toeset is the project leader of In Europe Schools.
She is a director at VPRO Television, a public broadcaster in The Netherlands.
She has more than 25 years of experience in producing documentaries and directing live television shows on politics, philosophy and music.
Steven Stegers is Executive Director at EuroClio, where he has worked since 2006. In his time at EuroClio, he has focused predominantly on projects in which educational resources are being developed as part of a collaborative process. He has worked for several years as coordinator of projects seeking to innovate history, citizenship and cultural education in the Black Sea region, and North Africa and the Middle East. Steven led the development of Historiana – one of EuroClio's flagship projects, and its first development of online educational resources. He has an MSc degree in Social and Organisational Psychology from Leiden University, and studied history including a honours class on Environment and Global History.
Eugenie Khatschatrian is a Junior Project Manager at EuroClio working on the VPRO's In Europe at School project one day per week. She holds a BA in European Studies from the University of Amsterdam and an MSc in International History from The London School of Economics and Political Science. She is interested in the history and transitional politics of the post-Soviet space, including issues regarding nation-building and the formation of national identities.
[siteorigin_widget class="Tribe__Events__List_Widget"][/siteorigin_widget]
27th Annual Conference
This workshop is part of the 27th EuroClio Annual Conference on Controversy and Disagreement in the Classroom. You can find more information on the Annual Conference, including the full programme, on the Annual Conference main page.
Workshop Fee
You can register to this single workshop for 15€ , or register to multiple workshops for a reduced fee.
Participation is free for Individual Members, Member Associations, and Ambassadors. Reach out to Djoera at djoera@euroclio.eu to know how to join.
[siteorigin_widget class="SiteOrigin_Widget_Image_Widget"][/siteorigin_widget]
[siteorigin_widget class="SiteOrigin_Widget_Image_Widget"][/siteorigin_widget]
Share This Story, Choose Your Platform!