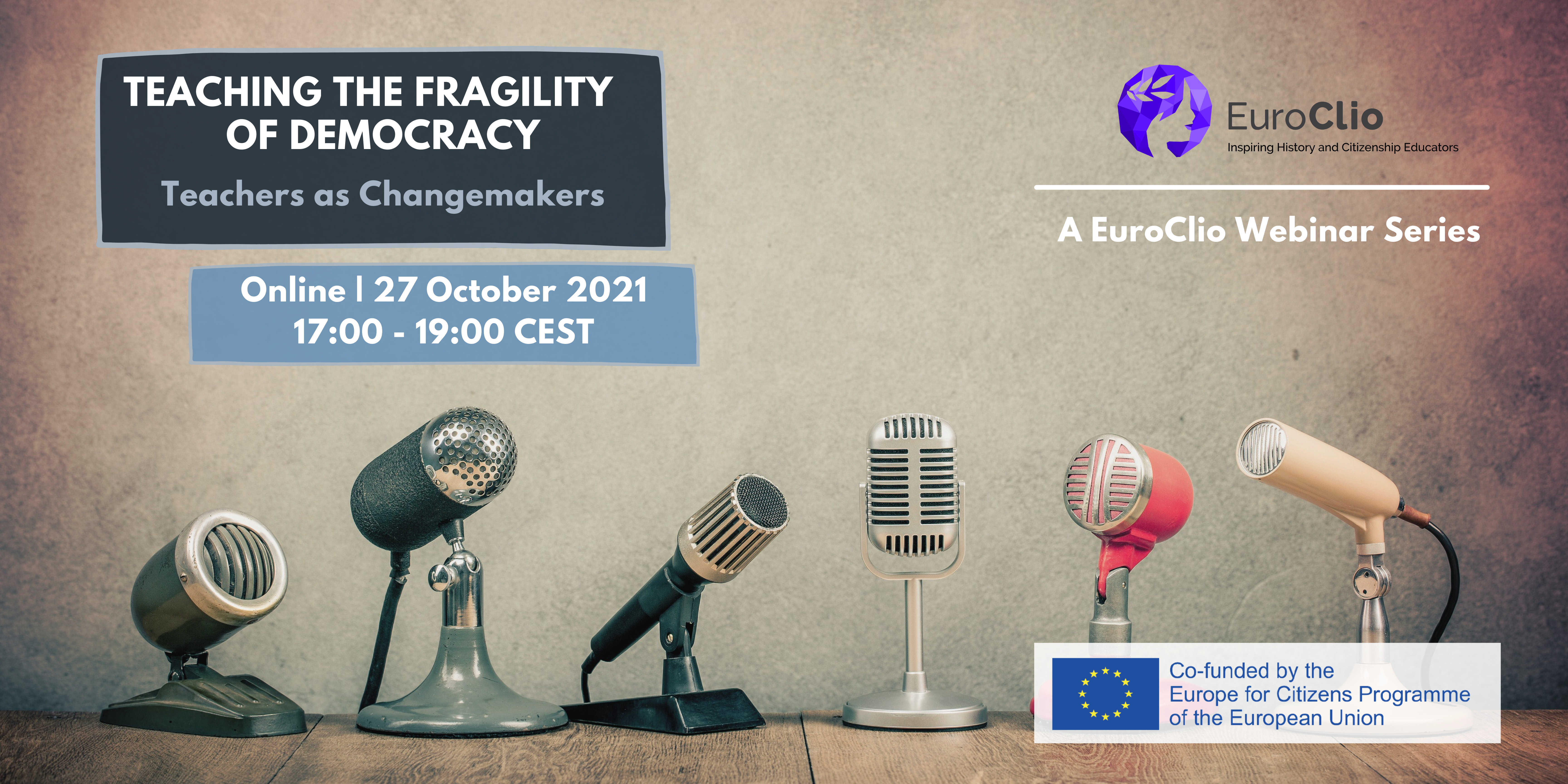 Fragility of Democracy – Session: Teachers as Changemakers
October 27, 2021 @ 5:00 pm

-

7:00 pm
During this session, we will learn more about system change theory and about how we can become actors of change within our classrooms and our communities.
The session will focus on two goals:
learning about what is the theory of system change and how our skills and mindset can help us bring about meaningful change
thinking concretely about what steps we can take to accelerate our journey as changemakers
To do this, we will first reflect on how do we approach the educational / democratic / social system in our local contexts, and specifically on what we can do to work within it or on it to make it better. Then, we will discuss together three main questions:
the story of ME – why do I care about history teaching? What is my connection with it?
the story of US – what is the value of my network and of the EuroClio community as a group of people that have similar values and share a mission and can make change happen together?
the story of NOW – why is it so important that somebody acts now?
We hope we will be able to leave the session with one concrete step that each of us will take in our classrooms / local contexts / museums / families / etc. that will help us bring about a little change.
The session will be designed and moderated by Fernande Raine, founder and director of the History co:lab. Here's some more details about her (from the history co:lab website:
Fernande is led by a lifelong conviction that history can be fuel for a new, inclusive democratic culture. She obtained her History PhD from Yale, and early in her career worked as a consultant with McKinsey and Innosight. She ran the Human Rights Center at Harvard's Kennedy School, and launched and led the "Measurement in Human Rights" project. She also launched five programs (including Western Europe programs) during 11 years as an intrapreneur at Ashoka, and co-led the research effort into systems change leadership. Fernande learned history in a German high school in the 1980s, as if the future of civilization depended on it. She was engaged in multiple ways in the strengthening of democratic practices among students after the fall of the Berlin Wall.
Before joining this session, we invite you to check out this Ted Talk from Simon Sinek on "How great leaders inspire action". It will help us get in the active and engaged mindset that will make sure we will have a great session!
[siteorigin_widget class="SiteOrigin_Widget_Video_Widget"][/siteorigin_widget]
Registration is now open.
Participation to the webinar series is free for all EuroClio Individual Members, as well as for Members of our Member Associations.
If you are not a Member, you can register to single sessions for a fee of 15 EUR, or register to the full series for 35 EUR.
Would you like to become an Individual Member? Register here.
Not sure if you would like to join the full series? Join our keynote lecture free of charge and take a peak at our work!
[siteorigin_widget class="WP_Widget_Media_Image"][/siteorigin_widget]
We would like to thank our Individual Members for their support in developing this webinar series. The topic has been selected based on input from all members, and the recordings of our sessions are (partially) supported through individual membership fees.
[siteorigin_widget class="Tribe__Events__List_Widget"][/siteorigin_widget]
Share This Story, Choose Your Platform!