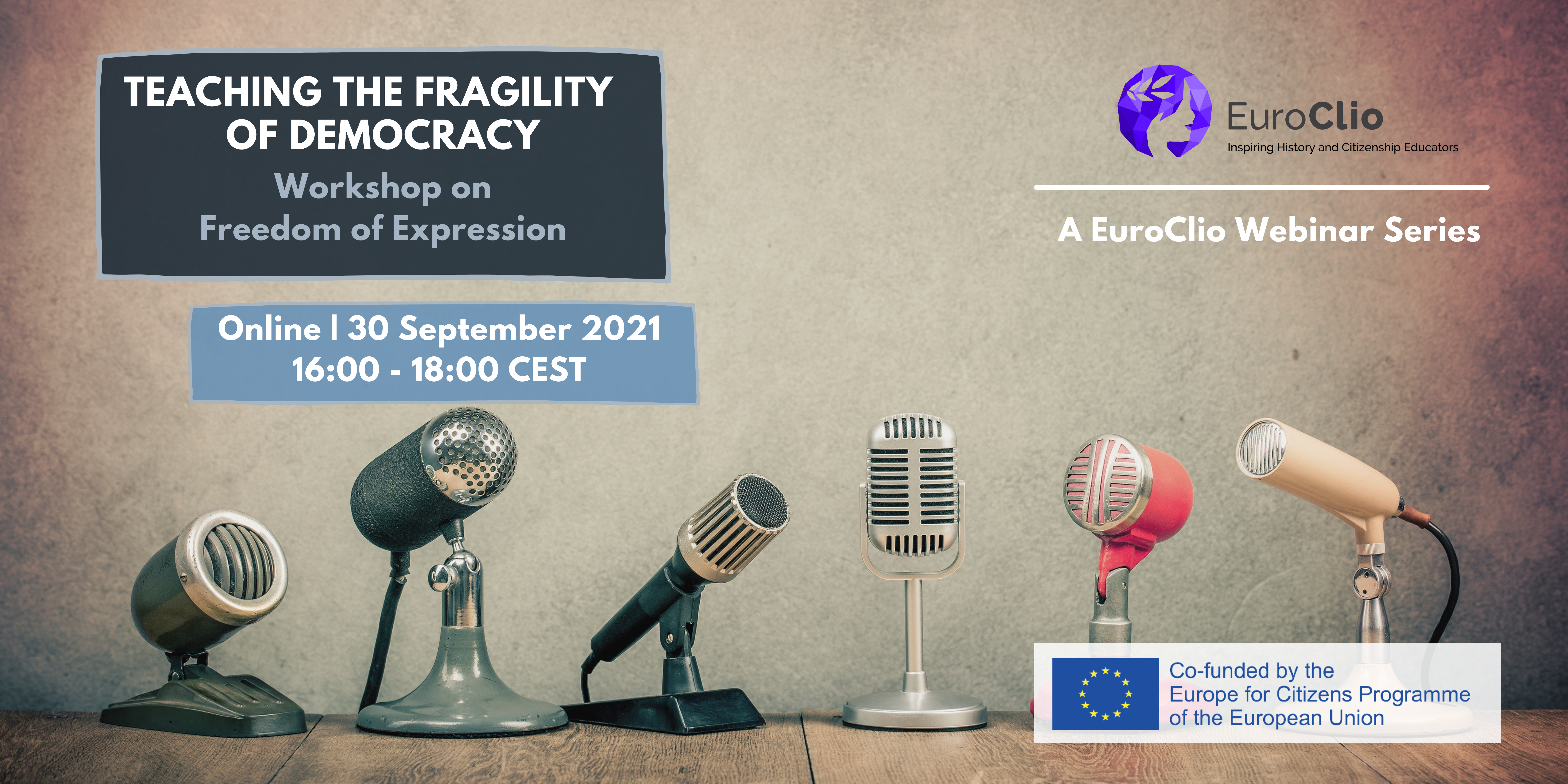 Fragility of Democracy – How to balance between conflicting democratic rights when discussing controversy?
September 30, 2021 @ 4:00 pm

-

6:00 pm
Teaching history or social sciences is a challenge nowadays. The world is polarized. We are confronted with terrorist attacks, pandemics and unstable global politics and all these events have great consequences for many. Uncertainty caused by these crises can lead to heightened distrust of others with different cultural or political backgrounds; it also can make people more conformist and people's moral judgements can become harsher. 
In this workshop we will discuss how teachers can respond to polarizing narratives and can balance between essential democratic rights, such as: freedom of speech and the right not to be discriminated. We consider schools as labs for democracy in which students can learn to disagree and learn to deal and act with different opinions harmoniously. During discussions, students can learn how to express disagreement with each other, within the boundaries of respect and moral decency towards each other. As John Dewey said: "Democrats are made, not born". For example: how to discuss confronting and discriminatory memes in the classroom?
About the workshop host
This workshop is given by dr. Bjorn Wansink (Utrecht University, Dynamics of Youth) and Maxine Herinx (Utrecht University).
Both trainers are part of the project TerInfo. TerInfo is a mobile web platform aimed to increase societal resilience against terrorism and other disruptive events in primary, secondary, and post-vocational education. The platform helps teachers to discuss controversial topics with groups of different ages in a clear, factual, responsible and engaging way. TerInfo is an initiative of Utrecht University and led by prof. Beatrice de Graaf. 
Registration is now open.
Participation to the webinar series is free for all EuroClio Individual Members, as well as for Members of our Member Associations.
If you are not a Member, you can register to single sessions for a fee of 15 EUR, or register to the full series for 35 EUR.
Would you like to become an Individual Member? Register here.
Not sure if you would like to join the full series? Join our keynote lecture free of charge and take a peak at our work!
[siteorigin_widget class="SiteOrigin_Widget_Image_Widget"][/siteorigin_widget]
We would like to thank our Individual Members for their support in developing this webinar series. The topic has been selected based on input from all members, and the recordings of our sessions are (partially) supported through individual membership fees.
Share This Story, Choose Your Platform!