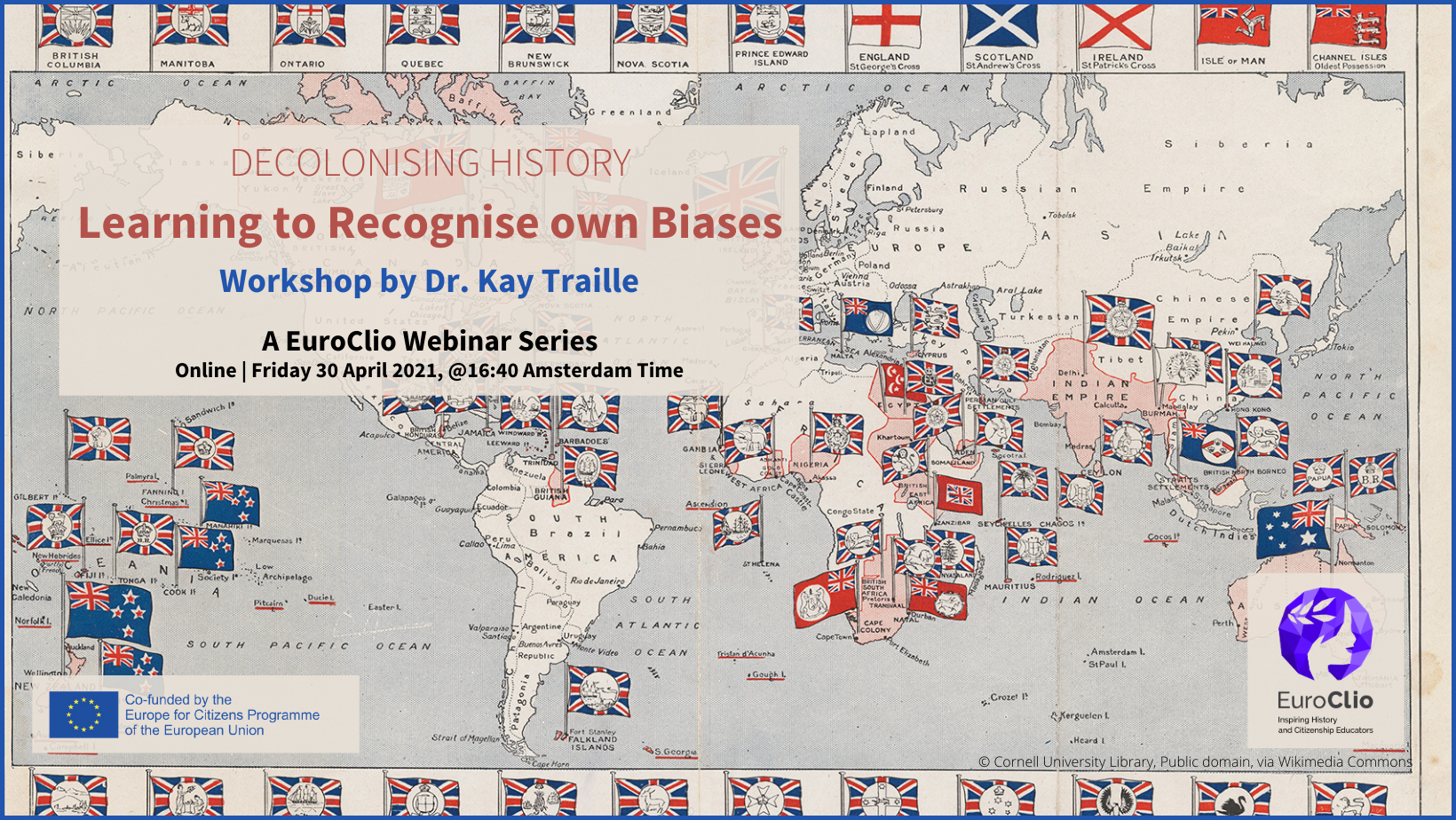 Decolonising History – Workshop on 'Making a difference: Learning to Recognise and Interrupt Personal Biases in the Curriculum and Classroom'
April 30, 2021 @ 4:30 pm

-

7:00 pm
This workshop focuses on the way bias plays a major role in perpetuating inequity and influences the how and what we teach repeatedly to the detriment of marginalized students. Biases in the curriculum and our teaching such as omission and fragmentation bias, textbooks, and cosmetic bias are frequently endemic in education.  Learning the origins of historical racial bias explicit and implicit are key in understanding how biases function consciously and unconsciously in education. The role that Stereotypes play in terms of how information is processed by the brain and how this often leads to domination and division are investigated. We uncover how sources of implicit bias, the media, past experiences, and cultural exposure weave a tangled web and entrap us if we fail to notice the danger.
Through a better understanding of the science behind implicit bias and how this coupled with explicit biases function and flourish in education, educators will have a better grasp of these slippery and complex terms and how to interrupt their own personal and often unseen, unnoticed and unrecognized biases. Understanding this will help educators identify how biases influence and impact diverse students in terms of the Achievement, Opportunity, Learning, and Discipline Gaps.
Identifying strategies that interrupt such biases are explored.  And we learn why incorporating these strategies into our practice can make a difference in our schools in terms of more equitable and inclusive learning curricula and environments for all students.
About Dr. Kay Traille
Dr. Kay Traille is an associate professor of History Education and History at Kennesaw State University. She has been teaching and mentoring for several decades in the field. Originally from the United Kingdom, she moved to the USA in 2007. She continues writing and researching in the field of teaching controversial issues and issues concerning students of color and the teaching of history. Dr. Kay Traille is the author of 'Hearing their voices: Teaching History to Students of Color' and 'Teaching History to Black Students in the United Kingdom'.
Participation to the webinar series is free for all EuroClio Individual Members, as well as for Members of our Member Associations.
If you are not a Member, you can register to single sessions for a fee of 15 EUR, or register to the full series for 60 EUR.
Would you like to become an Individual Member? Register here.
[siteorigin_widget class="WP_Widget_Media_Image"][/siteorigin_widget]
[siteorigin_widget class="Tribe__Events__List_Widget"][/siteorigin_widget]
Share This Story, Choose Your Platform!