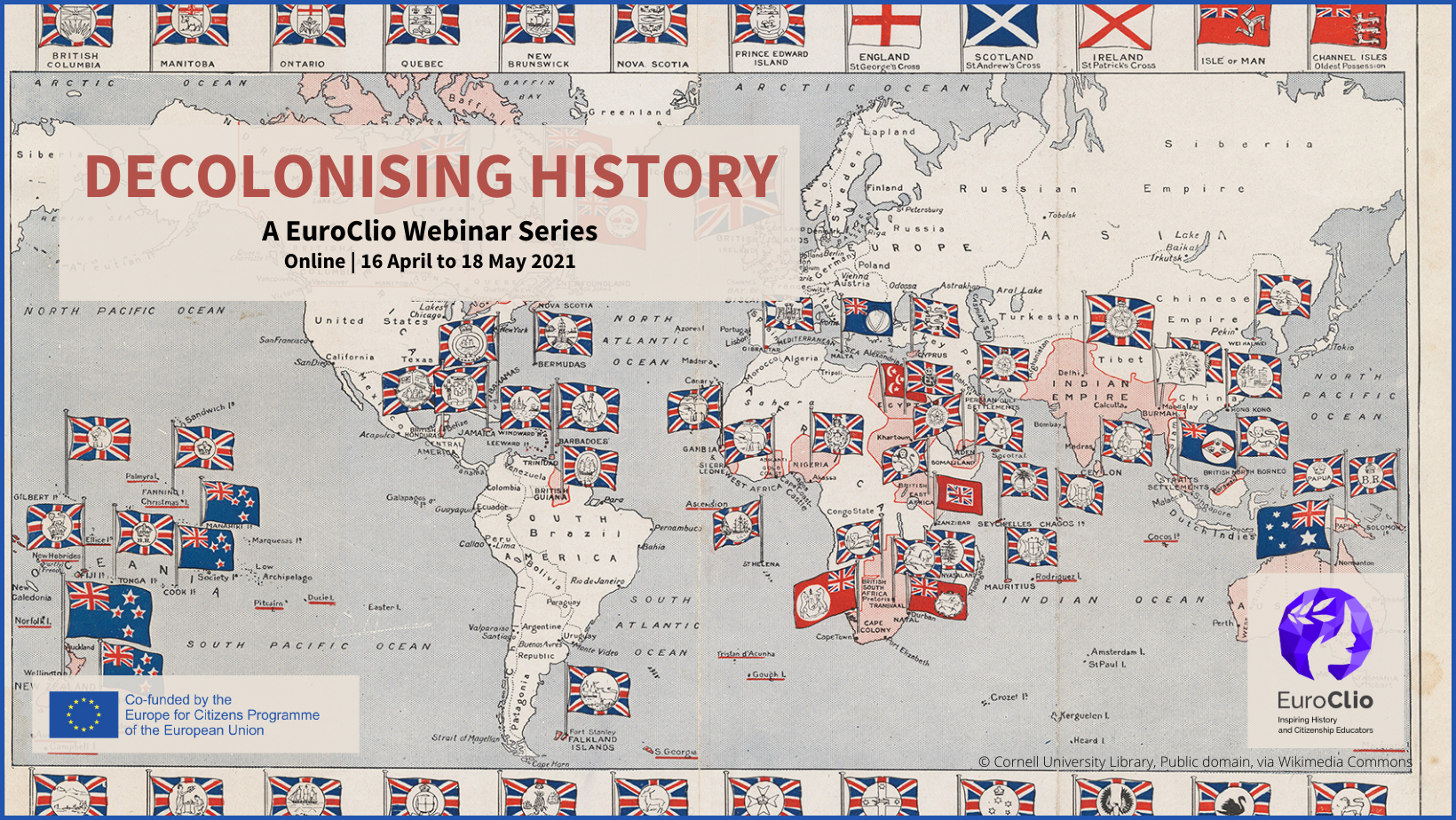 Decolonising History – A webinar series
April 16, 2021 @ 3:30 pm

-

May 21, 2021 @ 8:00 pm
Have you been wondering how to teach about colonialism without resorting to a narrative of victims and perpetrators? Or how to account for the impact of colonialism on history curricula? Would you like to know more about recognising your own biases?
Following the killing of George Floyd and the Black Lives Matter protests sparked across the world,  we have been asking ourselves these questions.
We are proud to launch our webinar series and thematic month on 'decolonising history' during which we will tackle these key questions for history educators today.
The webinar series will take place over a six weeks period in Spring 2021 (starting 16 April 2021 with regular sessions until 18 May 2021). The programme will open with an icebreaker on the use of popular culture to decolonise history, in which participants will have the opportunity to get to know each other and to collect ideas and resources to teach about the colonial past with popular culture. The icebreaker will be followed by a keynote lecture. This lecture, hosted by prof. Peter D'Sena, will help participants reflect on what do "decolonising history" and "decolonising the curriculum" mean, as well as what kind of actions this entails. The keynote will be followed by four hands on workshop, which will provide teachers with tools to effectively talk about colonialism and its legacies in the classroom. Participants will be presented tools and methodologies to:
The series will close with a feed forward and exchange session, in which participants will have the opportunity to share reflections, insights, tips and tricks on decolonising history, building onto the questions raised during the keynote lecture and the knowledge acquired throughout the series.
During the webinar series, you will:
Exchange experiences on teaching about colonialism in your local/national context with other educators, as well as on how colonialism and its legacies are perceived by society.
Understand how colonialism has influenced historical narratives and the development of the history curriculum.
Acquire skills and knowledge on how to teach about colonialism and its long-term legacy.
Learn how to recognise and address your and your students' biases.
Learn how to find and use diverse, inclusive, and representative sources.
Participation to the webinar series is free for all EuroClio Individual Members, as well as for Members of our Member Associations.
If you are not a Member, you can register to single sessions for a fee of 15 EUR, or register to the full series for 60 EUR.
Would you like to become an Individual Member? Register here.
[siteorigin_widget class="WP_Widget_Media_Image"][/siteorigin_widget]
Would you like more information on the webinar series?
Do you have a great lesson or practice that you would like to share with the EuroClio Community?
Have you read a beautiful book that can be used to teach about colonial history, or to make our way of teaching the past more representative of minorities?
Have you listened to a great podcast?
Do you know where we can find sources to make our lessons more representative?
If your answer to any of there questions is yes, we would like to know more! Please, reach out at secretariat@euroclio.eu with as subject line "decolonising history". We will be in contact as soon as possible.
[siteorigin_widget class="Tribe__Events__List_Widget"][/siteorigin_widget]
Share This Story, Choose Your Platform!