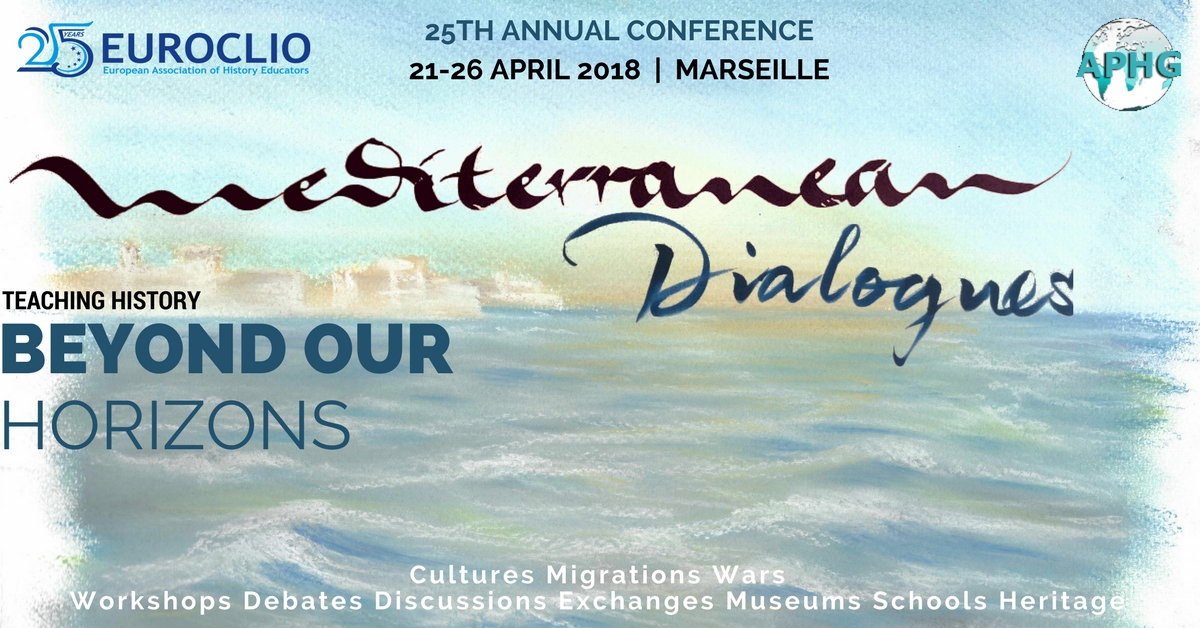 25th EuroClio Annual Conference and Professional Training and Development Course: Mediterranean Dialogues
April 21, 2018

-

April 26, 2018
The Mediterranean Sea has often been depicted as the cradle of world civilisations. The sea is known in English and the Romance languages as the sea "between the lands", but historically the Mediterranean Sea has gone by many names. The Romans have called it Mare Nostrum (Our Sea); in Arabic and Turkish the sea is often referred to as the White Sea (al-Bahr al-Abyad and Akdeniz, respectively); in Hebrew, it is called Yam Gadol (Great Sea), and in German Mittelmeer (Middle Sea).
Since Antiquity, the Mediterranean Basin has been the centre for the three monotheisms, flourishing civilisations, migrations, the development of cultural, scientific and economic exchanges, but also for the intersections of wars. Today, unfortunately, the Mediterranean Basin is the theatre of a humanitarian crisis that has challenged the collective leadership around the sea.
To understand the current challenges around the Mediterranean, history, heritage, and citizenship education has a key role to play. That is precisely the reason why EuroClio and APHG have decided to choose "Mediterranean Dialogues: Teaching History beyond our Horizons" as the theme for its 25th Annual Conference. Questions addressed are:
How can we make current challenges understandable through the Mediterranean Region's history?
How can we work towards truly meaningful Mediterranean dialogues?
Can history education allow us to look beyond our European horizons?
And, how can we teach history by looking beyond our horizons?
La Méditerranée a souvent été décrite comme le berceau des civilisations. En anglais et dans les langues romanes, c'est la mer "entre les terres". En réalité historiquement, la Méditerranée a connu plusieurs noms. Les Romains l'ont appelée Mare Nostrum (Our Sea). En arabe et en turc, la mer est souvent appelée la mer blanche (al-Bahr al-Abyad et Akdeniz, respectivement); En hébreu, on l'appelle Yam Gadol (Grande mer), et Mittelmeer allemand (Middle Sea).
Depuis l'Antiquité, le bassin méditerranéen a été le centre des trois religions monothéistes, de civilisations florissantes, de migrations, du développement des échanges culturels, scientifiques et économiques, mais il a été aussi au coeur des guerres. Aujourd'hui, il est malheureusement, le théâtre d'une crise humanitaire qui met au défi le leadership collectif autour de la mer.
L'histoire, le patrimoine et l'éducation à la citoyenneté ont un rôle décisif à jouer dans la compréhension des défis actuels autour de la Méditerranée. C'est précisément la raison pour laquelle EuroClio et APHG ont décidé de choisir "Dialogues Méditerranéens: Enseigner l'Histoire au-delà de nos Horizons" comme thème de ce 25e Congrès annuel. Les questions abordées sont les suivantes:
Comment rendre les défis actuels compréhensibles à travers l'histoire de la région méditerranéenne?
Comment pouvons-nous travailler vers des dialogues méditerranéens vraiment significatifs?
L'éducation à l'histoire peut-elle nous permettre de regarder au-delà de nos horizons européens?
Et comment pouvons-nous enseigner l'histoire en regardant au-delà de nos horizons?
21 April
Welcoming speeches
Key-note lecture "Object Lessons in Global Microhistory: Rewatching the 1934 assassination of King Alexander of Yugoslavia in Marseille." – Keith BROWN, Professor of Politics and Global Studies, Arizona State University.In October 1934, newsreel cameramen covering the arrival of King Alexander of Yugoslavia in Marseille, witnessed his assassination by a member of a Macedonian terrorist organization, the panic of the crowd, and the death of the gunman. Their footage was seen around the world, even as some governments censored it, and the French authorities examined it for clues on how the gunman succeeded. Today–when images of deadly violence are more commonplace–this footage offers teachers and students a unique window on an event whose political significance has been overshadowed by the global conflict of World War II that followed. In particular, it provides an opportunity to trace out how opponents of the international order created after World War I were able to capitalize on new communication technologies, old grievances and a transnational traffic in ideas, objects and money to leave a permanent mark on Mediterranean and Southeast European history.
22 April
On-site learning; participants choose from the following options:
Aix-les-Milles: Camp des Milles, memorial site, educational museum and workshopsDuring World War II Camp des Milles was an internment and transit camp, located in a former tile factory near the village Les Milles, in Aix-en-Provence. Between 1939 and 1942 over 10.000 people of 38 different nationalities were detained in the camp, and over 2000 Jewish captives were deported to Auschwitz.Today Camp des Milles houses a large history museum with a strong focus on education and culture. The museum aims to keep the memory of World War II and the Holocaust alive, drawing on scientific research to encourage visitors to grasp the individual and collective processes that lay at the foundations of what happened at the camp during the war.

The visit to Camp des Milles ties in with the key-theme "War and peace in the Euro-Mediterranean region", contributing to a common understanding of the history of conflicts and wars in the Mediterranean.

Toulon: visit to the memorial and Mount Faron and the Navy museumThe city of Toulon is situated about 50 kilometres east of Marseille on the Mediterranean coast. It is currently a large base for the French navy and has one of the most historically important ports of the region, connecting the entire Mediterranean region.Ports serve as an important hub; they not only benefit trade relations, but also attract people of many different cultures, tying in with the key-theme of "People on the move". Migration between all sides of the Mediterranean has shaped the region to what it is today.
23 April
A day at Mucem, the Museum of European and Mediterranean Civilizations:
Opening Panel: Our shared past in the Mediterranean – examples of bridging history education
Panel Discussion: Teaching Islamic History in the Mediterranean, Representations and Shared Ideas
Panel Discussion: Teaching for Values around the Mediterranean
Political Debate: Understanding the Humanitarian Crisis of Migration in the Mediterranean
Parallel Sections

Panel Discussion: Europe, Notre Histoire
Visit to the Connectivités Exhibition at Mucem
Breakout Session: Council of Europe and History Education

Pub Quiz
24 April
Workshops at Lycée Marseilleveyre
Workshops Round I
Contributors (to be confirmed):

Olivier RABASSE, Spanish Civil War
Steven STEGERS, Programme Director, EuroClio.
Judith GEERLING, Senior Project Manager, EuroClio.
Weronika KANN, European Network Remembrance and Solidarity.
Theodore COHEN, Coordinator of the Model EU Project, Israel-Palestine: Creative Regional Initiatives (IPCRI).
Laetitia VION, Office National des Anciens Combattants et Victimes de Guerre – ONAC.
Pascal COGET, Office National des Anciens Combattants et Victimes de Guerre – ONAC.

Workshops Round II
Contributors (to be confirmed):

Karim HOUFAID, World War I.
Heike BORMUTH, Hamburg University.
Katarina BRENTANOU, Luxembourg International School.
Laurence BRAGARD, House of European History.
Blandine SMILANSKY, House of European History.
Representative of BDIC, Algerian War Pictures.
Nayla HAMADEH, Lebanese Association for History.

Workshops Round III
Contributors (to be confirmed):

Joan BRODSKY, New York University.
Anne TABAK, International School The Hague.
Ulrich SCHNAKENBERG, Specialized in History and in Political Cartoons.
Representative of Northeast Asia History Foundation.
Frédéric ABECASSIS, Rhône-Alpes Laboratory for Historical Research.
Yves ROLLIN, President of Relais de la Mémoire.
25 April
Key-note lecture: "Policy-making out of History: The Case of the Armenian Genocide" –  Vincent DUCLERT, General Inspector at French Education Ministry
Panel Discussion: Launch of APHG-VGD, shared publication between the two history teachers associations
Panel Discussion: Algerian War
Cultural Visits in Marseille, discovering sites of Memory and examples of History Education.
26 April
25th EuroClio General Assembly
Discussion Groups:

How do you approach teaching a certain theme?
What would you like to teach?
What would you like to share with a Mediterranean colleague?
Designing a European Common Curriculum. Comparing your national novels.
Are you free to teach certain topics or not?
Which are the sensitive topics in your country?
The 25th EuroClio Annual Conference is eligible for Erasmus+ KA1 funding. Please refer to the international cooperation department of your school or institution for more information. You will most likely need EuroClio's PIC in order to secure the funding.
EuroClio PIC: 986684001
| | |
| --- | --- |
| TICKET TYPE |  PRICE |
| Full Conference (21-26 April) |  €585.00 |
| Saturday 21 April 2018 |  €80.00 |
| Sunday 22 April 2018 |  €105.00 |
| Monday 23 April 2018 |  €105.00 |
| Tuesday 24 April 2018 |  €105.00 |
| Wednesday 25 April 2018 |  €105.00 |
| Thursday 26 April 2018 |  €105.00 |
Accomodation
In the document below you can find a number of discounted accommodation deals for your stay during the 25th EuroClio Annual Conference in Marseille (21-26 April 2018). Please note that these are recommendations. You are of course always welcome to find and book the accommodation of your own choice. All accommodation with discounted rates are located in a walking distance from the conference venues in the Vieux-Port area in Marseille. As the discounted rate for our conference is only valid for limited time, we encourage you to book your room as soon as possible to safeguard this discount. The discounted rates will expire after the room slots which are blocked for our conference participants are filled. The list also includes some hotels without discounted rates in order to provide you with wider range of options to choose from. If you have any questions or inquiries, please don't hesitate to contact the conference organizers.
Share This Story, Choose Your Platform!