From 17-20 February, EuroClio organised the first in-person project meeting for Online Teaching in the Visegrad Region. In the beautiful city of Prague, we met with local coordinators, experts who will write the Teacher's Guide and the authors of the e-learning activities. The enthusiasm of the team members is infectious and we are looking forward to the coming months together!
Whilst the majority of the project team were able to attend in-person, others 'zoomed in' to join online. This hybrid format couldn't be more fitting to our project, which tackles the transition to digital and how to facilitate blended learning at its core!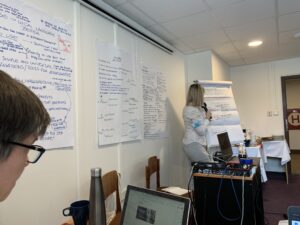 The project broadly concerns the shared socialist past of the four Visegrad Region countries: Czech Republic, Slovakia, Hungary and Poland. Concretely, we will work to produce a Teacher's Guide on digital and hybrid learning as well as 8 online e-learning activities which will be made available on Historiana.
Navigating the stormy weather and organising a meeting during the pandemic was not an easy feat, but we came together and made some concrete steps! These steps include the finalising the methodology and chapters of the Teacher's Guide, and after quite some brainstorming, we also decided upon the topics for the e-learning activities.
We at EuroClio, would like to say a big thank you to the members of the project team for their inspiration and continued efforts, and give thanks to the International Visegrad Fund for their support!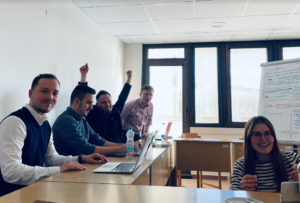 The project is co-financed by the Governments of Czechia, Hungary, Poland and Slovakia through Visegrad Grants from International Visegrad Fund (visegradfund.org). The mission of the fund is to advance ideas for sustainable regional cooperation in Central Europe.