By Bridget Martin, History Teacher in Residence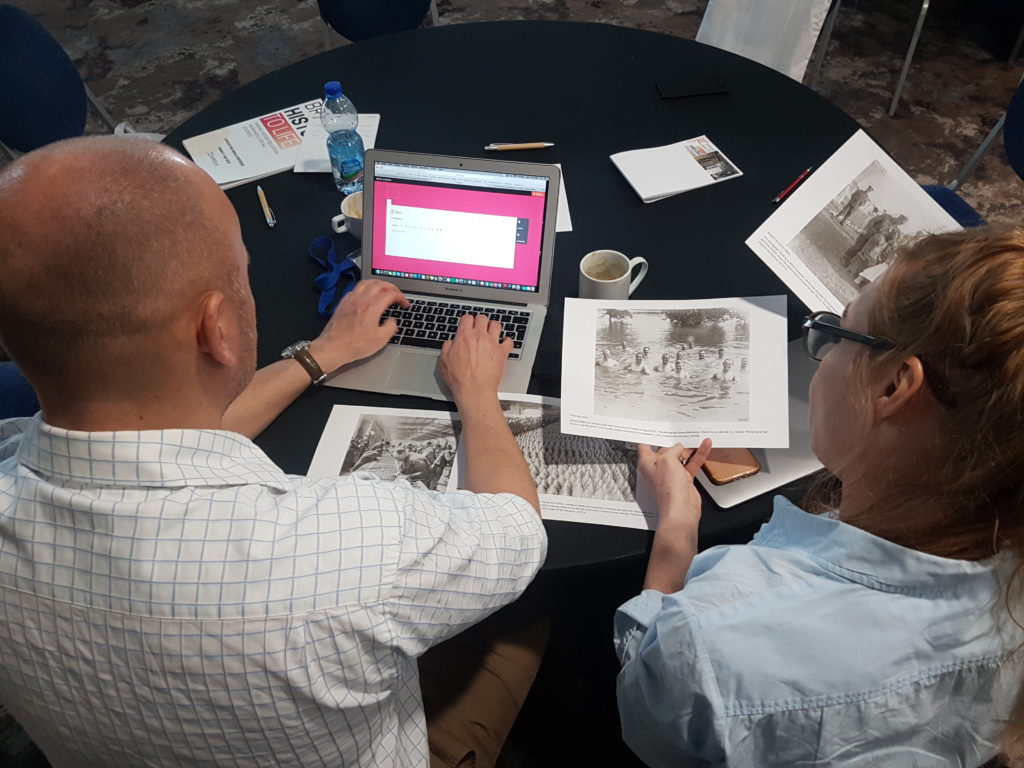 As part of my residency at EuroClio, I attended the Annual Conference in Gdansk, Poland, where I presented a workshop entitled Photographic Sources: Bringing History to Life? : Using online tools to promote historical thinking. The workshop took place on the 7th of April and was attended by over 20 participants from all around the globe. The focus of the workshop was on the use of the Historiana website which provides teachers with a wealth of historical content, teaching and learning activities as well as a tool with which to build their own online activities for students.
Historical Content Available on Historiana
We began with an explanation of the Historiana website, an invaluable resource produced by, with and for history teachers which is freely available to all. In the area of Historical Content, Historiana provides teachers with a variety of resources:
Comprehensive sets of content, sources and learning activities connected to 'key moments' such as WWI, WWII and the Cold War
Thematic units such as 'Changing Europe' or 'Silencing Citizens through Censorship', and
Numerous source collections curated by EuroClio staff, trainees and volunteers.
Many of the sources used are drawn from our partner, Europeana, an online portal which provides access to over 50 million digitised sources from thousands of European archives, libraries, museums and audio-visual collections as well as their own online collections and galleries.
For this workshop, we concentrated on The Visual Front source collection which provides many examples of official war photographs from various nations, all taken during the First World War. These sources were collected from the Imperial War Museums and, like all source collections on the Historiana website, assembled with contextual notes for use by teachers in the classroom.
Analysing Photographs
The Visual Front source collection highlights the nature of official photography and its tendency to emphasise and deemphasise aspects of the war, often staging photographs for propagandistic purposes. This collection provided the perfect springboard for discussions of how to support students to question the assumption that photographs always capture things as they really were and encourage them to critically analyse photographs in the same way they would any other historical source. Participants took part in a rich discussion about the types of questions they would ask students to consider when presented with one of the photographs from the collection.
We also discussed the questions suggested by Cory Callahan who has drawn upon research by Sam Wineburg in which he identified three heuristics used by expert historians when reading textual sources: sourcing, contextualising and corroborating. Callahan suggests that when analysing photographs we could invite students to ask questions in the same areas, such as: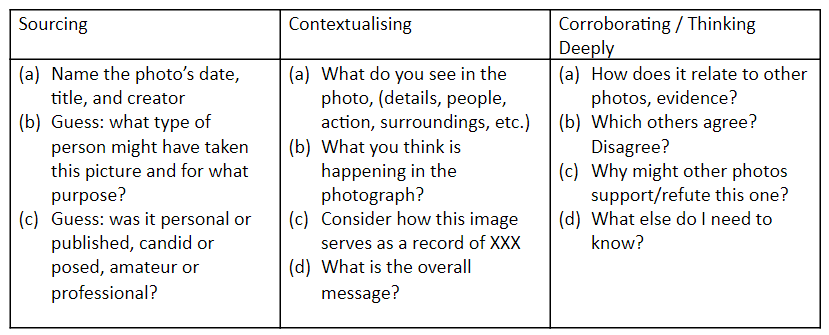 eLearning Activity Builder on Historiana
The second half of the workshop allowed participants to observe and test out Historiana's eLearning Activity Builder. This tool allows teachers to create their own online learning activities to promote historical thinking using Historiana source collections as well as their own resources. Using different building blocks, teachers can:
provide instructions
create activities where students annotate, sort or prioritise sources
ask questions, and
receive student responses.
After looking at a few examples, participants worked in groups to create their own eLearning Activity focusing on the usefulness of photographic sources from The Visual Front collection. These activities were presented at the end of the session and ranged from tasks for assessing how realistic the photographs were, to those centred on considering the impact of the photographs as well as those which explored the representation of women and their roles in the collection. The range of activities developed in this short space of time provides an excellent example of the vast variety of activities that teachers can develop with this tool for use within their specific teaching contexts.
References
Cory Callahan. 'Analyzing Historical Photographs to Promote Civic Competence.' Social Studies Research and Practice 8, no. 1 (2013): 77-88.
Sam Wineburg. 'Historical Problem Solving: A Study of the Cognitive Processes Used in the Evaluation of Documentary and Pictorial Evidence.' Journal of Educational Psychology 83: 73-87.