On 29 September – 1 October, the development team in the EuroClio project Learning a History that is not yet History met near Osijek, Croatia to further work on a common collection of resources which educators can use to teach the 1990s Yugoslav Wars, as well as the further drafting of a Joint Position Paper, aimed to plan ahead more effective and impacting way for history teachers associations to address this very sensitive topic in education.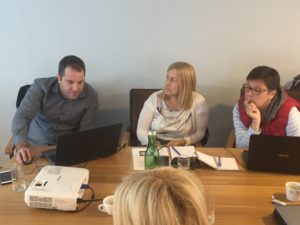 The meeting enabled the team, which had already collected over 100 inspirational and relevant resources, to go over these one by one and confirm the relevance and categorization.
In addition, project experts were able to re-draft the Joint Position Paper and prepare for the launch of both deliverables in time for a public launch in Brussels, at the House of European History on the 18 December 2017. The meeting also included an on-site programme in Osijek, kindly facilitated by Director of the Museum of Slavonia, and EuroClio Ambassador Denis Detling.