On November 13 Jonathan Even-Zohar, the director of EuroClio, posted an article on Facebook about Frank Navarro, a Californian history teacher who got suspended for holding a lesson in which he examined parallels between the rise of Trump, and the German Nazi dictator Adolf Hitler. Jonathan asked himself and his friends on Facebook a question: 'What are the limitations for history teachers to talk about present politics?
It did not take long before history teachers from at least two continents and over ten countries were engaged in a lively debate about the question posed by Jonathan. Are history teachers free to draw parallels between the present and the past? Are they free to draw parallels between whoever and whatever they want? If not, what exactly are the limitations? Who decides what the limitations are?
Many teachers who participated in the discussion were cautious. The issue at hand was a sensitive one. We are responsible for the learning process of students, and as teachers we should not impose our political views on them. That is why some of the discussants proposed to let students research the matter for themselves: do not tell students there are parallels between Trump and Hitler, but rather pose a question that they can research. For instance: are there parallels between the rise of Trump and the rise of Hitler? One American history teacher wrote that by comparing Trump and Hitler in class, you already imply there are similarities. Most teachers would never set up a comparison between Hillary Clinton and Vladimir Iljitsj Lenin.
As a teacher and a professional, the last thing I want to do is indoctrinate my students with my personal (political) views. I decided to ask my students in 6 VWO (age 17-18) the same question Jonathan asked us: what are the limitations for history teachers to talk about present politics? They read some articles and got familiar with the Frank Navarro case. I arranged coffee and a student brought cake. We spent about an hour discussing the issue. I discovered that I sometimes try to influence my students as well, without even being aware of it. Apparently, I always say the following when I try to influence the way they think: "I don't want to influence you, but…" Students told me they did not mind this. A girl told me that teachers can share their views with students as long as they make clear that those views indeed are personal. In my case, she remarked, it was very obvious. We all had to laugh. As for Navarro, the students came up with yet another way of looking at it. You do not have to compare Trump to Hitler in class. You can refer to the ongoing discussion in the media and ask how students feel about that. That way it is not the teacher who makes a comparison. He or she merely points out there is a comparison being made in the media. What are the arguments against such a comparison? Are there any arguments in favor of the comparison?
I am glad Jonathan posed that question on Facebook. Not only did we end up having a great discussion about a serious issue with history teachers from all over the world; we can also use these new insights in class and talk to our students about the pros and cons of historical comparisons. I am looking forward to discussing a new topic with all of you in the future. I do not want to influence you, but hopefully that does not involve another right-wing populist being elected…
About the author: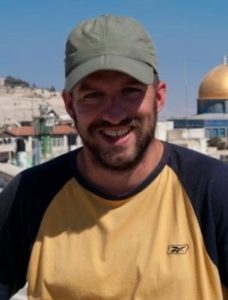 Frans van Rumpt is a history teacher