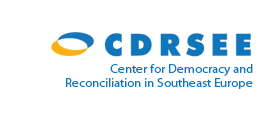 EuroClio partner, The Center for Democracy and Reconciliation in Southeast Europe (CDRSEE), will publish two new Joint History Project workbooks in an upcoming European Parliament event "History of the Future" on 15 November. The event will be hosted by Ms Ulrike Lunacek, European Parliament Vice-President, and four other MEPs: Ms. Tanja Fajon, Mr. Eduard Kukan, Mr. Knut Fleckenstein and Mr. Ivan Jakovcic.
These workbooks deal with a recent past, covering the period from 1944 to 2008. They offer teachers and students an opportunity to research and study 20th century history, including the sensitive years of the 1990s, without giving ready truths. The workbooks offer a methodology for reading the history of any given time period.
CDRSEE works to foster democratic, pluralist, and peaceful societies in Southeast Europe. EuroClio is a key partner in a CDRSEE project on education reform in Southeast Europe, called ePACT.