This week EuroClio Board Vice President Mire Mladenovski had the opportunity to present the EuroClio/CDRSEE project ePACT – Education Partnership for Advocacy, Capacity-building and Transformation – to Ministers of Education of the Balkan region at the 5th Ministerial Meeting of the Western Balkan Platform for Education and Training in Sarajevo. A meeting where in total 84 participants joined, including Ministers of Education from all countries. The event turned out to be a good working meeting with a lot of sharing of experiences on policies and challenges. He shared all key information on the project aims and objectives and current state of play. In particular he floored the invitation to strengthen cooperation with NGOs and teachers on the improvement of education, in particular history education – which is seen as very difficult topic to address in the region. He detailed the past achievements of EuroClio and CDRSEE in the field of promoting a multiperspective approach, in line with Council of Europe recommendations and in partnership with OSCE, RCC and other regional actors. All participants received a summary of the ePACT project.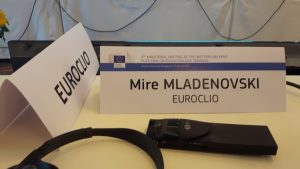 Surrounding the official programme, our Vice President also had meetings with EuroClio Ambassadors Edin Radusic and Edin Veladsic, as well as other members of EuroClio HIP-BiH, and motivated conference participants to visit the national History Museum of Bosnia and Herzegovina, run by EuroClio member Elma Hasimbegovic.
The project is implemented with the financial support of the Austrian Development Cooperation as part of the initiative "NETUCATE – Networked education creating a skills web for participation and sensitivity".