The representatives of our Project partners, Erciyes University Foundation and Erciyes University carried out a study visit to the Netherlands. The Project, "Differentiated, Skills and Competencies-Based Instruction in Social Studies and History Lessons" has been developed in the context that Turkish classrooms consists of students with a variety of abilities, previous learning experiences, learning styles, motivations and levels of preparation. Teaching such diverse group of students in the same classroom is one of the most challenging aspects of teaching. Turkish partners visited The Netherlands to learn from Dutch experience in terms of how they deal with diverse needs of students in the classroom. Together with Bjorn Pels, trainee at EuroClio, the delegation spend a week travelling through the country, visiting several institutions along the way.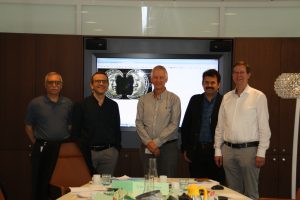 The first institution was CITO, it is an internationally recognized expert institute, in developing and administering examinations and tests. CITO provides training and consultancy and examines the quality of education. All these activities they perform for educational institutions, governments and industry at home and abroad. It was very interesting to see what CITO does and for the group the presentation about the 'History of History Exam' was truly fascinating. It's interesting to think about questions like: why would you make examinations for history? And what would you have to test? Should it be about knowledge or about skills? And what about the ongoing debate on essay questions versus closed questions. Finally, the role of sources in exams are also interesting to discuss.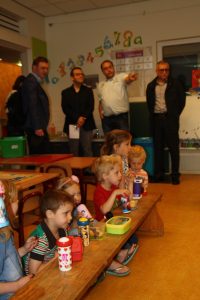 Fontys provides teacher training courses in five places in the provinces Noord-Brabant and Limburg. Together they form a University for Applied Sciences, Childstudies and Education for Bachelor and Master students. Students at Fontys work in a professional way in the focus lies with lifelong learning and developing yourself. Lecturers are specialized and have a passion for students. The delegation had two guides Clemens Bierings and Marjan de Groot-Reuvekamp – former president of the EuroClio Board – who were very hospitable and could explain the specific methods used at Fontys University. The University very much believes that it is important to learn from other countries and to give foreign students and teachers the possibility to learn from Fontys as well. A short excursion was organised by Fontys to visit the primary school: Het Palet in 's-Hertogenbosch. There it would be possible to see teachers, students and pupils in action. Generally a class would start with a instruction for the whole group, after that children who should be able to work on their own, may do so. Children who found it difficult to work individually after the instruction got extra instruction from the teachers. The group got a lot of information and a great impression of the Dutch education system.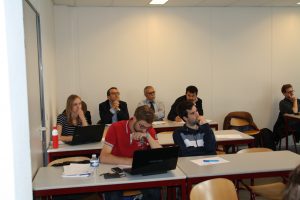 ICLON, an inter-faculty unit within Leiden University, consists of two departments that focus on secondary and higher education and has an administrative unit. ICLON connects theory and practice of teaching through research and the application of academic knowledge to issues of classroom practice. Also, issues of practice form the starting point for research in, and development of, secondary and higher education. For example the biologist Fred Jansen has done a lot of research in the field of differentiation. His approach is to start with the whole picture instead of a single element. After a very interesting lesson student Elise Storck gave to her fellow students an assignment and it was interesting to see that all students worked in different ways. 'Teach what you preach' she later states. After this the group had the chance to listen to an interesting presentation by Stephan Klein about: 'What do teachers do with sensitive topics?'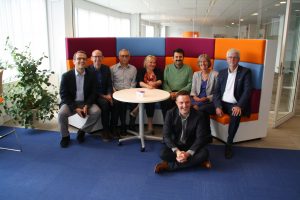 SLO is a Dutch, independent and non-commercial expertise center for curriculum development They have a public task in the triangle: policy, practice and science. The center works in interaction between various levels of curriculum development (system, school, classroom, student) and seeks (both longitudinal and horizontal) content consistency in education and focuses on the areas of primary education, special education and secondary education. Thanks to Albert van der Kaap, Coen Gelinck, Monique van der Hoeven and Nora Steenberg-Penterman we learned a lot about differentiation and we were at the right place at the right time; This year a research showed that further investment in differentiated teaching skills is much needed. Furthermore, it showed that differentiation was to much focused on remedial instead of enrichment.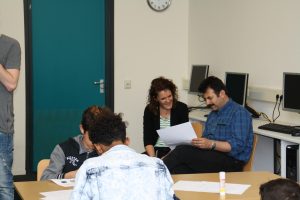 As a final visit the group went to the secondary school ISK VMBO 't Venster. Here most pupils come from all around the world and are aged between 12 and 18. These children have very different backgrounds; One can hardly read and write, while others went to school for years. As you would expect differentiation is of great importance at 't Venster. The teachers use visualisation and games as tools to include all children in the process. Generally pupils will learn enough Dutch within two years to move on with their further education and usually they could go to all forms of secondary education after ISK. Because of the many refugees schools like 't Venster had to find an additional building to provide all children with the necessary education (especially language and math are important). It was inspiring to see how the staff tried to make the building there own in an attempt to secure a feeling of safety for the children. And even though they hope the building won't be needed too long anymore, many staff members continue with reparations in and around the building to make it a real safe haven.