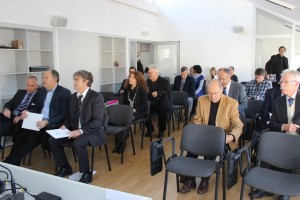 On 23 October 2015, an international scientific conference titled 'Europe and the Mediterranean region. Where is Croatia heading?' took place in the premises of the Faculty of Philosophy (Humanities and Social Sciences) in Split, Croatia.  The conference was co-organized by
the Institute of European and Globalisation Studies in Zagreb, "Jean Monnet" EU Chair of Political Studies at the Faculty of Political Sciences in Zagreb, the Institute for Migration and Ethnic Studies in Zagreb, the Faculty of Law of the University of Split and the Faculty of Philosophy of the University of Split.
Some of the most eminent experts on European integrations and common EU policies, political scientists, jurists, anthropologists, historians and humanists from Croatia, Slovenia, Austria, France, Spain and Italy gathered on this occasion in Split  in order to open a scientifically based public discussion on the causes and consequences of the current humanitarian crisis affecting millions of people in the Middle East and the Northern Mediterranean, causing the unstoppable wave of war and economic migrants towards Europe.
Aware of possible far-reaching consequences for the future of Croatian society, Europe and the world, under the influence of current global economic and refugee crisis in scale of a "migration of peoples",   the participants of the Conference, addressed the intellectual, political, cultural, Croatian, European and world public as well as the political institutions with decision power – by the common Declaration that was signed – in a hope that their thoughts can reach those who are still not taking the necessary measures to stop the causes of this immense crisis and the religious extremism it feeds.