ISHA Skopje – Yugoslav Wars Through the Social Prism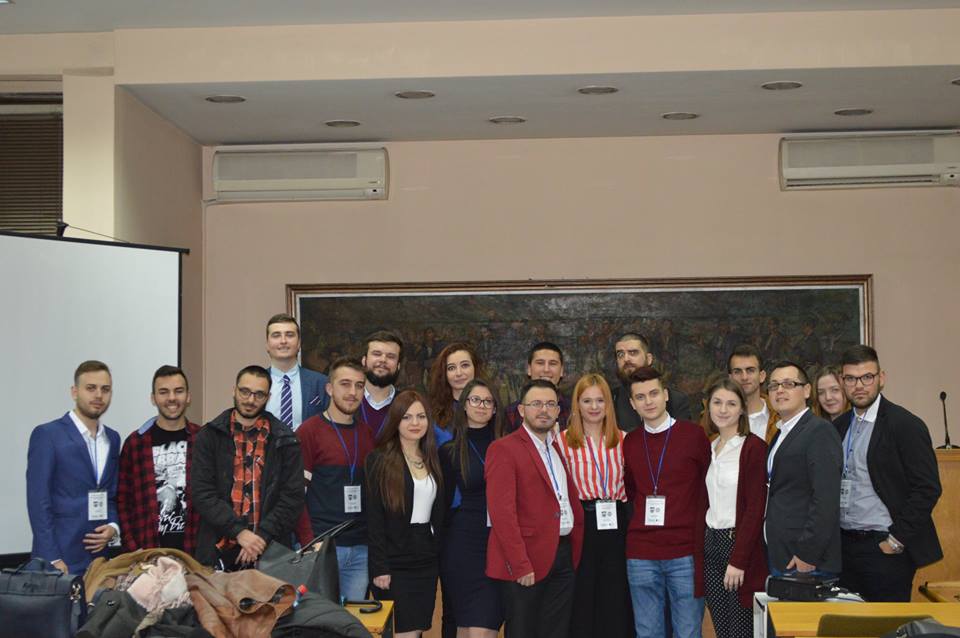 On December 2, the conference "Yugoslav wars through the social prism" took place in Skopje, Macedonia. The conference was organised by the International Students of History Association (ISHA), as a part of the EUROCLIO project "History that is not yet History", and was attended by about 60 people. The conference was attended by a wide range of participants: historians, researchers, educators, community activists and others interested in this topic. The event included talks by our ISHA members, professors from the Faculty of Philosophy and guests from ISHA Osijek and ISHA Sofia. They discussed how Yugoslav wars affected the social life, economic situation, music, cinematography, sports, minorities, education etc.
Тhe event was divided into two working sections and included 9 presentations. For some of them there were presentations with photos and audio and video files. The guests had the opportunity to ask questions and discussed the topics. Feedback from the conference was very positive. Participants greatly enjoyed the chance to meet like-minded people from another countries, the opportunity to learn from one another, and the chance to explore ideas.
Workshops included:
Borce Ilievski, PhD – (Faculty of Philosophy – Skopje) "The influence of the crisis
in Yugoslavia in the 80s and the socio-cultural processes"
Angel Kocev – (Faculty of Philosophy – Skopje) – "The Economic Situation of
Yugoslavia in the Last Years of Its Existence"
Donna Canovska – (ISHA Sofia) – "Economic consequences of the imposition of
the south embargo on Bulgaria"
Stjepan Leko – (ISHA Osijek) "The role of music in the Croatian War of
Independence"
Ljube Klekaroski – (Faculty of Law – Skopje) – "Minorities in Vojvodina in the
Period of the Disintegration of Yugoslavia"
Nikol Marinova – (ISHA Sofia) – "Cultural Revolution" in Bulgaria in the 90s of
the 20th century "
Dunja Tomić – (ISHA Osijek) – "A Review of the Croatian War of Independence
in Croatian Cinematography"
Boban Gjorgjievski – (ISHA Skopje) – "Domestic and school education as a
barrier to social changes during the peak of the Yugoslav crisis (1990-1995)"
Tomi Panov (Faculty of Philosophy – Skopje) – "Stellar Odyssey in red, white and
blue"
We also recommend