Call for Applications for Funding: EUROPEANS FOR PEACE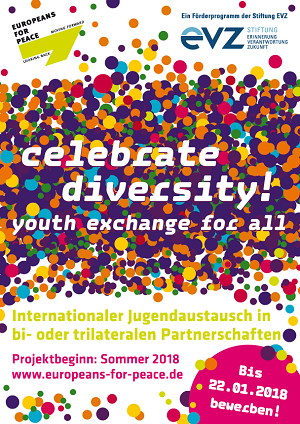 The funding program EUROPEANS FOR PEACE  is currently accepting applications for project funding in 2018 and 2019. The program is looking for projects that fit the theme of "celebrate diversity! youth exchange for all" , and applicants are encouraged to involve one or several international partners. Diverse groups are especially encouraged to apply, as The mutual exchange and the acceptance of inclusive and diverse concepts of living are very important to EUROPEANS FOR PEACE.
Applications can be submitted digitally, and the deadline is 22 January, 2018. For more information about the call, and the program itself, visit:  www.europeans-for-peace.de.
We also recommend