Representatives of EUROCLIO-HIP and HUNP speak at International Symposium of School Life, Ljubjana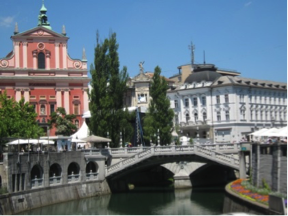 Last week of June 2013 Slovenian school museum hosted the 15th International Symposium of school life called "Creating links in Education." Denis Detling, representing Croatian history teachers association (HUNP) and Bojana Dujkovic Blagojevic, BiH HTA (EUROCLIO – HIP) took an opportunity to participate in the work of this symposium and present the ongoing project in the countries of former Yugoslavia. Denis and Bojana had a presentation of the History that Connects-project focused on the role of History Teachers Associations as civil society actors: History teachers' associations driving changes together in history education in the Western Balkans.
Since the conference was oriented mostly to the work of museums, pedagogical approaches, etc, EUROCLIO showed how museum materials can be used as an additional teaching material, which was the case for several modules prepared within the mentioned project.
More information about symposium and papers presented: http://www.ssolski-muzej.si/slo/symposium2013.php
We also recommend